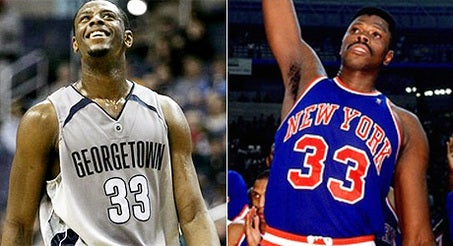 You've got to give the kid credit: he does not shy away from insurmountable expectations. After following in his father's legendary footsteps at Georgetown, Patrick Ewing Jr., son of NBA Hall of Famer (scans NBA almanac ) Patrick Ewing, is now a New York Knick. It's already Junior's third team, and he hasn't even played an NBA game yet. Is it too early to start calling him a journeyman? Most experts say he doesn't have much chance of grabbing a roster spot, but Ewing doesn't seem to be backing down from the pressure:
In a statement, Ewing Jr. said being a Knick "means a lot to me" and that "it has always been my dream to play for this team. My goal is to show the coaches that I can play and do all that I can to help the team win some games.
In exchange for the son of the NBA's All-Time Leader in Gallons Sweat, the Houston Rockets acquired Frederic Weis. You may remember him from such dunks as
the greatest dunk ever
, and as one of approximately 200 candidates for the ultimate symbol of the Knicks' recent laughability. New York may also be in the process of removing another blight from the Isiah Thomas era: rumours are swirling that Memphis may be interested in picking up (not literally) Zach Randolph. In a related story, it continues to suck to be a Grizzlies fan.
Knicks: Ewing Jr. acquired for rights to Weis
[Newsday]