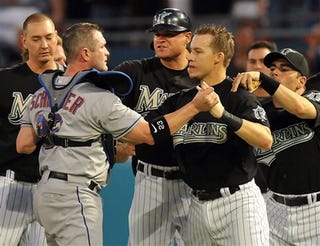 •
Back Away From the Ledge, Mets Fans:
In all fairness, you can't expect a major league bullpen to hold a one-run lead for almost
three whole innings
. The Mets relievers wasted another strong performance by starter Mike Pelfrey, as Aaron Heilman walked in the game-winning run in the bottom of the ninth to hand the two-time World Series Champion Marlins a 4-3 victory. In other walkoff walk news, the Nats beat the Braves in the tenth in the same anticlimactic fashion. Boy,
treadmill shrimp
earned his plankton last night. •
Huddle 'Round the Lidge, Phils Fans:
In all fairness, you can't expect a team to score three runs in just two innings against a major league bullpen. Phils reliever J.C. Romero struck out the side and left the bases loaded in the eighth, as the Phillies closed the gap in the NL East to one with a big 5-2 win over the Cubs. Brad Lidge is now a perfect 32-for-32 in save opportunites, and the Cubs winning streak was snapped at seven. Jayson Werth homered twice and Ryan Howard belted his 37th in the win. •
Why Can't You Be More Like Brad Lidge?:
It was all about the bullpen yesterday. Twins closer Joe Nathan's throwing error in the bottom of the ninth allowed both the tying and winning run to score as the A's topped the Twins 3-2. The Twins literally threw away an opportunity to move into first in the AL Central, as Boston beat the White Sox 8-2. •
This Is Why He Makes the Big Bucks, Folks:
In a game with no, I repeat, NO playoff implications, the Jays beat the Yankees 7-6. So why bother with the recap? Because A-Rod hit into a rally-killing double play in the bottom of the ninth, that's why.
It's what the man does
. Rodriguez has 80 RBIs this season. Exactly one of them has come in the ninth inning.