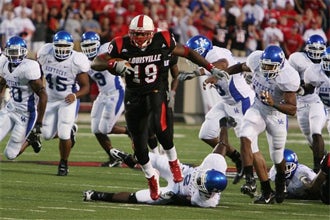 Louisville and Kentucky deserve credit today for saving us from the Sunday blahs by actually scheduling their game one full week before the bulk of the NFL slate gets underway (3:30, ESPN). No, it's not basketball, but it's a fun in-state rivalry, matching up teams that have recently been competitive in the Big East and the SEC, respectively. Louisville is on the verge of taking a program that was on the verge of national prominence and running it squarely into the ground. Second-year coach Steve Kragthorpe is fielding a young team that's greener than the Incredible Hulk's dong. Kentucky, on the other hand, has some questions at quarterback, but the Wildcats return seven starters on defense.
It will be interesting to see just how different this offense is without prolific quarterback Andre Woodson, who fueled an aggressive downfield passing attack the past two seasons. But Woodson, along with his four top weapons, is in the NFL, leaving offensive coordinator Joker Phillips with an offense lacking playmakers.
I don't know if a loss of playmakers would bother a guy named Joker too much. But it does leave a little extra pressure on defensive coordinator Batman Schneider and special teams coach Commissioner Gordon Lightfoot.
Kentucky Team Report
[Yahoo! Sports]
Louisville Team Report
[Yahoo! Sports]