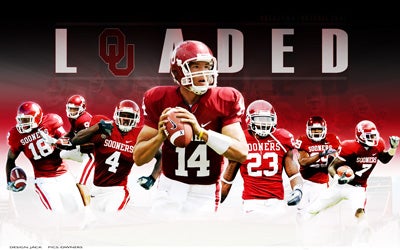 Anyone who monitors police scanners — I'm talking to you, Iracane — knows those five little words that will cause you to grab your coat and run out to your car: "Knives, guns and tire irons." They are the Iron Chef ingredients of a delicious bar fight, as was witnessed in Norman, Okla., on Saturday night (Sunday morning, actually) following the Sooners' pulverization of Chattanooga.
Norman police said they went to the nightclub at 2:32 a.m. Sunday, about four hours after fourth-ranked Oklahoma beat Chattanooga 57-2 in its season opener, after "numerous calls to the police department reported subjects fighting with knives, guns and tire irons." Police reported two people had been stabbed and a third had been hit by a car.
Yes, the addition of "hit by a car" makes it more than a bar fight. That's practically a scene from
The Dark Knight
. Anyway, Oklahoma coach Bob Stoops isn't saying much, but
the Daily Oklahoman is reporting
that OU basketball player Ray Willis and OU football player Frank Alexander were both stabbed in the melee. Both are expected to make "full recoveries." Alexander is a backup defensive end. Police also arrested a guy for carrying a concealed weapon, who wasn't even involved in the brawl. I'm beginning to think that this state is nothing at all like the musical
Oklahoma!
2 OU Players Hurt In Fight
[Daily Oklahoman]