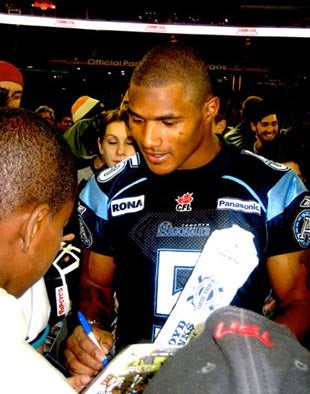 Eat your heart out, T.O. This young man is Arland Bruce III, speedy receiver for the Toronto Argonauts, who play a strange variation of the game of football which includes 16 players per side, among them horses, elves and hobbits. Also the ball is made entirely of bacon. But another thing that makes the Canadian Football League rather awesome; their scoring celebrations. Bruce's latest came against the Hamilton Tiger Cats on Monday night, when, after a catching a TD pass, he somehow produced a Spider-Man mask and pranced around the end zone while wearing it. Video following the jump.
Game officials had handed Bruce an objectionable conduct penalty on the spot. The 30-year-old slotback went on to have his best game of the season, catching 10 passes for a game-high 149 yards. "What did I think about it? I kind of laughed about it," Argos coach Rich Stubler said of the display. "But for us, it cost us 10 yards. He can run over, stand next to me and put the Spider-Man mask on — which is what I asked him to do."
Bruce, who played for the University of Minnesota and for the 49ers in 2004, is the cousin of former Rams wideout Isaac Bruce. He led the Argonauts in receiving in 2005 with 1,205 yards and 11 touchdowns. The Spider-Man move is causing quite a controversy in the Great White North. Bruce was fined for the incident, but has already made the move his signature,
placing the video on his web page
. Next problem: How to top it. That Iron Man suit is going to be a bitch.
CFL: Arland Bruce Fined For Comic Book Homage
[National Post]