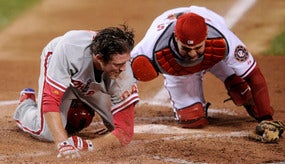 As the Phillies maintain their pursuit of The Bastard Mets in the National League East, there were some questions about whether or not this team was capable of hanging on through this final month of the season due to an overall lack of clubhouse leadership. There are no shit-stirrers, save for the occasional Pat Burrell dress-down of struggling pitchers and Charlie Manuel's desperate attempts for wake-up calls usually directed at Jimmy Rollins during the season. But with last night's 4-0 victory over the always troublesome Nationals (especially when Tim friggin' Redding is pitching for some reason) Manuel has anointed the Phillies dick-and-balls captain : Chase Utley. In the third inning of last night's victory, the Phillies second baseman made a frantic dash toward home plate in an attempt to eek out an extra run and ended up dismantling the Nationals' catcher Jesus Flores. The ball, however, was not dismantled. But the effort was not lost on Manuel, who wasted no time with the Mad Men -speak to describe Utley's effort.
"That's not old school, that's good school. That's the way you play the game unless you want to put some rouge and makeup and lipstick on."
Still two back, though.
Utley gives Phillies a crash-course in leadership
[Philly.com]
Charlie Manuel knows a real man when he sees one
[The Nationals Enquirer]