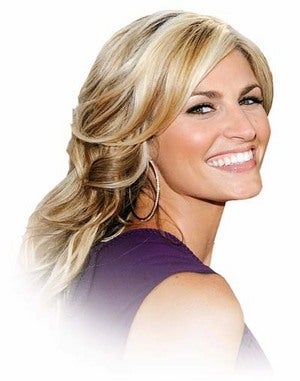 Erin Andrews has had a lot of critics over the summer (Sterger , Mike Nadel , "Chuges ", Deadspin Hall Of Fame voters ) all for different reasons, but in an interview with GoGamecocks.com , America's sideline princess reveals that the first time she met Coach Steve Spurrier, he also wasn't about to give her an easy interview just because she's a Gator Lady all dolled-up and pretty. Andrews explains their first meeting:
The first time I saw him, I was really nervous because this is Steve Spurrier, and I remember I was the only female there at the time. I asked him a question, and he didn't even answer the question. He said, 'What's your name?' And I said Erin. And he said, 'Erin? We've got a lot of Aarons on our team.' And he just kept talking and not answering my question, and that's kind of how coach Spurrier is with me.
Just a few bicep rubs later and their relationship has never been better. The photo above is also courtesy of GoGamecocks. It's a good one, but it gives Andrews a ghostly, angelic look. Like, this is what Erin Andrews would look like if you'd suddenly fallen into a coma. There she is , floating right above you, imploring you to run to the light so she could be the first person to interview you before you cross over.
Five Questions With Erin Andrews
[GoGamecocks.com] (via
Extra Mustard)