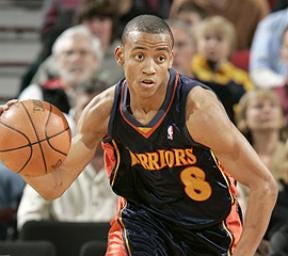 "I'm going to improve every part of my game. That's what I do. That's why I play basketball...to improve and to become the best player [who] ever touched a basketball." Monta Ellis said that just over a month ago , right after he received a six-year, $66 million contract extension from the Golden State Warriors. Now Ellis is recovering from a severely sprained left ankle and surgery to repair a torn deltoid ligament in the same ankle, a double-injury that occurred while he was "working out" in his hometown of Jackson, Mississippi . Or...did it?It's been rumored that the injury might have happened during a game of pickup basketball , which would be sort of stupid but very understandable. After all, a lot of NBA players participate in pickup games over the summer. But the latest scuttlebutt indicates that Ellis might not have been working out or playing basketball. As Marc Stein explained :
Multiple league sources have told ESPN.com that Ellis had several cuts and abrasions on his leg - atypical of an injury sustained on a basketball court - in addition to the high ankle sprain and torn deltoid ligament he suffered on Aug. 21. The Contra Costa Times had earlier reported that the severity of the injury has the Warriors skeptical about the explanation they received from Ellis, who told the club he got hurt working out in his native Mississippi. Ellis has not spoken publicly since his injury was revealed Wednesday and his agent, Jeff Fried, declined comment when reached by ESPN.com. Two experts in sports medicine consulted by ESPN.com, granted anonymity because they aren't privy to the specifics of Ellis' condition, said that a torn deltoid ligament is rarely seen in basketball. The deltoid ligament, the sources explained, is on the medial (big toe) side of the ankle while the structures typically involved in a high ankle sprain are on the opposite (lateral) side of the ankle. Involvement of the deltoid suggests a more serious rotational injury than those commonly associated with the NBA, the sources said.
Well, hmmm.
Shades of Jay Williams
, perhaps? Not that Ellis' injuries are as severe. He's out only until December(ish), whereas Williams' motorcycle accident was catastrophic. He almost died and never made it back to the NBA. Maybe it's more like Vladimir Radmanovic, who infamously
separated his shoulder in a skiing accident
but told his team (the Lakers) that he hurt himself slipping on a patch of ice. If the Warriors find out that Ellis' injury was of the non-basketball variety, they could choose to void his recently inked contract extension...but they won't. Losing Baron Davis and Ellis in the same summer would break the franchise for years to come. If anything, they'll simply fine him like the Lakers fined the Radman (Vlad had to cough up $500K for violating his contract), and maybe suspend him for a few games. What's most likely is that they'll simply wait for the media storm to blow over and then quietly sweep the whole mess under the carpet. But I'm guessing that Chris Mullin is going to have a little chat with Ellis about his extra-curricular activities.
Cuts, abrasions lead some to question cause of Ellis' injury
[ESPN.com]