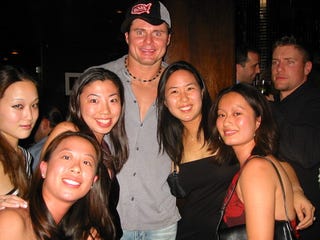 When things aren't going well for your team there is no end to the obstacles confronting them. Every day you get online and a new disaster has occurred. Even when you can't see them coming. Such as
this story
. Jason Giambi split his eyelid walking into the bathroom door of his hotel. Giambi told the
New York Post
: "I would like to have something to tell you, something like a fight or anything else," Giambi said. "But it was nothing like that. I walked into the bathroom door at the hotel and split it open."
"There was so much blood the maid probably was wondering where the body was hid," said Giambi, whose third-inning double hiked his RBI total across the past seven games to nine and marked the seventh straight game he has plated at least one run.
If you believe this story doesn't include JD, Mexican prostitutes, and a midget, Sarah Palin's got a bridge to sell you.
Jason loses bout with bathroom door
[New York Post]