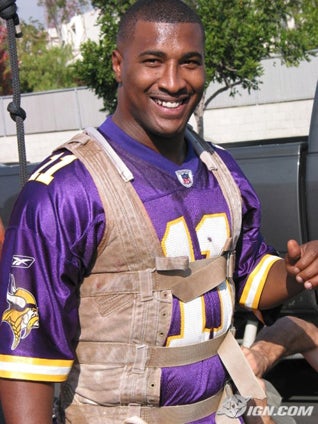 The starnge, sometimes brilliant career of quarterback Daunte Culpepper — who played Butch to Randy Moss' Sundance in six seasons with the Vikings — has announced his retirement. It wasn't at a press conference, but in an email to NFL.com reporter Adam Schefter . Replaced by Trent Green in Miami, a backup with the Raiders ... yeah, that would do it for me too. And so that one guy in your fantasy pool who always drafts a big name free agent in the hopes that he'll pull out a Comeback Player of the Year season is foiled again. I hated that guy anyway. Portion of Culpepper's email to Schefter :
The decision I made in 2006 to represent myself rather than hire an agent has been an invaluable experience. I now understand why so many people within the NFL community are uncomfortable with a player really learning the business. The NFL has become more about power, money and control than passion, competition and the love of the game. Regardless of this shift, player's rights are still supposed to be a part of this league. Since I will not be given the opportunity to honor the memory of Gene Upshaw by wearing a patch on my uniform this year, I will instead spend some of my energy applying what he taught me about standing up for what is right and not sitting down for what is clearly wrong.
Culpepper fun facts: He nearly signed a baseball contract with the Yankees organization after college, and Mike Ditka wanted badly to draft him as a tight end. As the Star Tribune points out, this is one of the more dramatic falls in NFL history; at 31, Culpepper is just four years removed from an amazing season in which he had 39 TD passes and a 110.9 QB rating. Daunte, you were always just
thinking
too much, man; someone was always out to get you. You never just leaned back and enjoyed the ride.
Culpepper Announces Retirement
[NFL.com]
Good Night, Sweet Daunte: Culpepper Retires
[Minneapolis Star-Tribune]