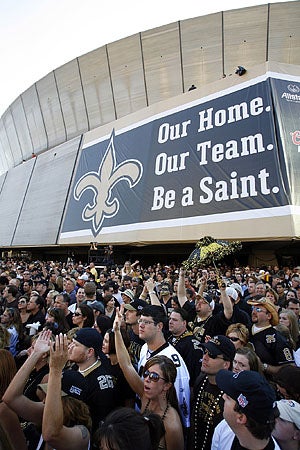 We're less than 12 hours away from the start of the NFL season, so it's time to finish the impassioned season previews from various writers, bloggers, diehard fans, cooks, TV personalities, and numerous other walks of life whom consider football the only sport worth watching. Clearly, these previews will be running until, oh, the first round of the wild card playoffs based on how quickly they've been coming in. So, for the next few days, expect a lot of these. Today: The New Orleans Saints. Your author is Alejandro de los Rios.
Alejandro de los Rios blogs about the Saints and Hornets at
blogofneworleans.com
and is a frequent contributor to ESPN the Magazine.There are no windows in the Superdome. This shouldn't be a surprise; it is a dome, after all. But once you're inside the Superdome, all you see and hear is football (and, on occasion,
giant vaginas.)
It's not hard to forget just what the weather outside is like. That is until local weatherman
Bob Breck
does his third-quarter weather report. Nothing brings Saints fans back to reality faster than a gray-haired white guy saying they should be worried about whatever storm is on the horizon. You could argue that no other populous in the U.S. pays so much attention to local meteorologists. Just watching a couple of minutes of the reports on Hurricane Gustav educated me on high-pressure ridges, Gulf Coast water temperatures and high-altitude cold winds. None of which changed the fact that, in the end, all I could do was pack my shit and wait it out in Hattiesburg, Miss (I hear they got a
great crop of high school receivers
there.) When it was all over, I was almost mad that the hurricane didn't leave a path of destruction worthy of a
mandatory evacuation
and I wished I was just crazy enough stay. (Side note: It seems as though the enduring lesson of Katrina — that New Orleans residents should never take a storm for granted — may have been destroyed by Gustav as residents struggled to re-enter the city. People are already
saying they would stay next time
.) This brings us to another critical point: why on earth anyone would choose to live in New Orleans. Well, aside from the obvious (where else are you gonna
find $2 whiskey and cokes on a Tuesday morning
?) anyone who's lived in New Orleans for an extended period can tell you that, after a certain point, the city will not let you leave. Sure, you can move away, get a real job in a real town where you can't walk down the street sipping on a
hand grenade
, but it's much more than that. My friend Wookie (yea, that's what he goes by) said New Orleans "is a peace of mind" and, like New Orleans blogger
nolachick
told me, "you don't just live in the city, the city lives in you." Another Saints blogger, who goes by the name
Chef Who Dat
, put it thusly:
"I stay here because the annual threat of hurricane can unify a city in ways that others can only imagine. I stay here because it's not Dallas, it's not Houston, it's not Atlanta, it's not Chicago, and it's not any other place that thinks size matters. I stay here because, as Ronnie Virgets says, New Orleans is ourselves alone. We matter to ourselves and that's all that really matters."
At times, the New Orleans Saints have not felt that solidarity. With multiple attempts to
move the team
even before Katrina, owner Tom Benson, has been the target of most Saints' fans' ire (
internet rumors
do nothing to help this). And with the team practicing in Indianapolis for the time being, there's always that lingering thought maybe this time they won't come back. Of course, the Saints always come back, just as the "Big One" always seems to
avoid New Orleans
. The truth of the matter is New Orleanians don't need the Saints. The same way that they don't need Anderson Cooper and
Geraldo Rivera showing up
every time it gets windy. Don't get me wrong, the people of New Orleans love the Saints and will do anything and everything to keep them (how else would you explain rooting from Jim Haslett and Aaron Brooks?). But one of the lessons of Katrina was that the Saints are one storm away from packing up and moving to L.A. The people of New Orleans aren't as fickle. They'll always find a reason to stay. That's how it works in the Big Easy; we look at the world slightly differently. People dance at funerals and wear seersucker in the rain. They drink in the streets and laugh at tourists who think the city starts and ends on Bourbon Street. They dress up in
gold spandex
, bang on the roof of the Superdome and still ask "Who dat sayin' they're gonna beat them Saints?" when the team starts 0-5. They weather out storms and like their hurricanes one way: on the rocks. And when the weather clears, they will always be ready to swim home. What else can I say?
Laissez le bon temps roulé...