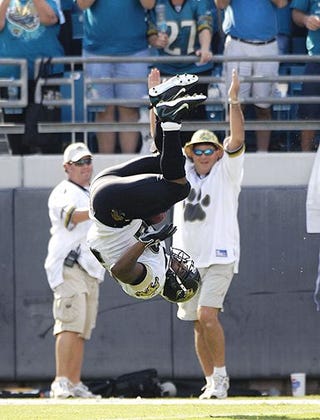 The NFL season has officially started, so it's time to fucking finish the impassioned season previews from various writers, bloggers, diehard fans, cooks, TV personalities, and numerous other walks of life whom consider football the only sport worth watching. Clearly, these previews will be running until, oh, the first round of the wild card playoffs based on how quickly they've been coming in. So, for the next few days, expect a lot of these. Actually, let's see how many we can get out in one day. Today: The Jacksonville Jaguars. Your author is Dan Shanoff.
Dan Shanoff blogs at
DanShanoff.com
and
The Sporting Blog
and infuriates "real" Jags' fans every year when he writes this preview.Year Three of my experiment as a bandwagon Jaguars fan begins, and with apologies to the team's
real
longtime fans, I get the feeling that last season will be about as good as it gets: 11-5 regular-season record. David Garrard, with an NFL-best 18-3 TD-INT ratio and a Top 3 QB rating. The team's biggest playoff win ever, on the road in Pittsburgh. They even kept up with the Patriots in Foxboro... for a while. Not only did the Jaguars make the playoffs, but I still feel like they presented the biggest challenge to the Patriots — knocking them off should have been
our
glory, not the Giants'. But that's not what history will remember: They'll remember Brady going 26-of-28, an NFL record 93 percent completion rate (including another record, connecting on his first 16 pass attempts). Three weeks later, Brady was swallowed whole by the Giants' pass rush. You can tell what impression those two results left on the Jags, because three months later, they went out and traded up for Florida defensive end Derrick Harvey and used their 2nd-round pick to nab another SEC defensive end, Quentin Groves. Call it the "(Justin) Tuck Rule." Subsequently, this off-season sort of sucked: Free-agent import WR Jerry Porter got hurt. First-round draftee Derrick Harvey was That Rookie Who Inexplicbly Holds Out Forever. Matt Jones made his play to be a first-round pick in your Fantasy Cokehead League. Even Fred Taylor got arrested, for god's sake. Then, obviously, we hit bottom — the shocking shooting of Richard Collier; with all thoughts and prayers for the man, who knows what the full on-field impact of that will be? Here's what remains: This continues to be a team that most fans in the league couldn't care less about — and that most fans in the region care less about than, say, the Georgia-Florida game. This, despite near-universal respect for our Pro Bowl QB; a fantasy stud RB in Maurice Jones-Drew; a (theoretical) upgrade at WR to go with Reggie "10 TDs? Really?" Williams; and, most important, that upgrade to the D-Line that could close the gap with the Pats. The Pats aren't nearly as strong as they were a year ago and the Jaguars, theoretically, have improved their defense. The good news is the expectations: Anything less than a playoff spot — even in the AFC — should be considered a failure. Sure beats being a Falcons fan. But last season also left little margin for improvement: Beat the Pats? Win the Super Bowl? Hey, it could be worse: "Save the franchise from moving to Los Angeles" might make beating the Pats or winning the Super Bowl look doable.