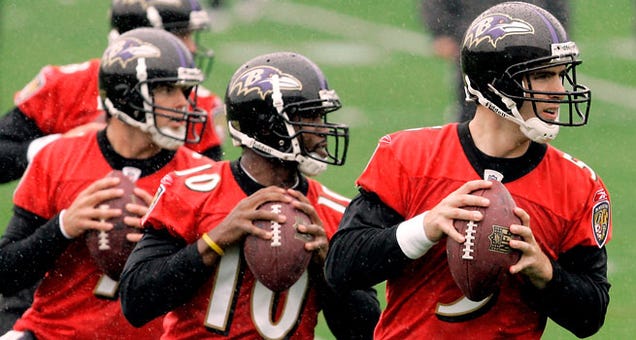 The NFL season has officially started, so it's time to fucking finish the impassioned season previews from various writers, bloggers, diehard fans, cooks, TV personalities, and numerous other walks of life whom consider football the only sport worth watching. Clearly, these previews will be running until, oh, the first round of the wild card playoffs based on how quickly they've been coming in. So, for the next few days, expect a lot of these. Actually, let's see how many we can get out in one day. Today: The Baltimore Ravens. Your author is Elliot Fooksman.
Elliot Fooksman is an occasional blogger at
bromoblog
and masochist.I know the pundits and experts are predicting a bad year for the Ravens, but I just don't see it. This is a good team with no major flaws. I think I can put together a pretty good case for this being a playoff team, which I will go into below. Former Raven cheerleader Stacy Keibler appreciates you taking the time to read this.
Superbowl winning coach Brian Billick returns for his tenth season.
What? He's gone? Well, the team had turned on Billick anyway last year, and he never really lived up to his title of "offensive guru." At least Bisciotti and Ozzie Newsome were smart enough to bring in an experienced offensive coordinator to take over the offense. I have no doubts that
New head coach John Harbaugh brings an impressive pedigree
Or maybe not. After spending nine years as the special teams coach in Philadelphia under Andy Reid (though we can only hope not literally) Harbaugh was promoted to the lofty role of defensive backs coach in 2007. Apparently that one year was enough to impress Raven's management that he could come in and take over a veteran team that struggled due to injuries last year. Speaking of which,
The Defensive Backfield is finally healthy and ready for week one.
Ok, so maybe not healthy. Samari Rolle, after missing games last year due to epilepsy, missed a big chunk of camp following his fathers death. His backfield mate Chris McAllister had offseason knee surgery that kept him out of the preseason. Star Safety Ed Reed spent most of camp on the Physically Unable to Perform list and is dealing with a nerve impingement in his shoulder. The guys they are counting on for depth, Fabian Washington, acquired in a draft day trade with the Raiders, and Derrick Martin were both suspended for week one (spousal abuse and drugs) and David Pittman accepted an injury buyout after being placed on the IR. Meaning that rookie boxer (don't think that won't be mentioned every week) Tom Zbikowski and Dawan Landry are the only healthy guys in the backfield. But hey, is shouldn't matter, since
We can always count on the Linebackers
Ray Lewis, still the heart and soul of this defense, has missed games with injuries the last couple years, and seems to be showing his age (though I wouldn't ask him about that personally for safety's sake). Terrell Suggs missed most of camp over a contract dispute. Bart Scott and Jarrett Johnson have proven to be solid starters, but haven't made anyone forget about Peter Boulware, who is
apparently off running for congress.
The backups, outside of Nick Greisen, have a combined one year of NFL experience and include a guy from Syracuse, which is never a good sign. I'm still not worried about the defense because
The Raven's dominant Defensive Line is back.
Except it looks like the only thing they will dominate is the Injury Report. Nose Tackle Kelly Gregg (hey, did you know he wrestled in college) is unlikely to be ready for several weeks thanks to a bum knee, Defensive End Haloti Ngata is dealing with a lingering training camp injury and Trevor Price is coming off a season where he missed 11 games due to injury. Supersub Dwan Edwards is out for the year, perpetually injured Dan Cody has been cut and their replacement, Marques Douglas, has been on the team for a week. Well, even if the defensive line struggles
A veteran Offensive Line anchores the offense
Well, maybe not veteran. John Ogden has finally retired, and is probably off trying to get his brother a job somewhere. Mike Flynn just got cut by the Patriots and Edwin Mulitalo has apparently been on the Lions for the last two years. The future Hall of Famer Ogden is replaced by manchild Jared Gaither, a second year supplemental pick out of Maryland who has struggled picking up the calls and staying in shape. Joining Gaither are second year Guard Ben Grubbs, converted second year Guard Marshall Yanda (moving from tackle), converted fourth year Center Jason Brown (moving from guard) and the only guy with any actual experience at his position, fourth year Tackle Adam Terry. Of course, Terry is hurt and may wind up being replaced by Mike Kracilik, who has spent the last few years getting cut off practice squads. (I'm relatively certain that Art Donovan could still get a sack against this crew). Even though the starting line only played together for a half dozen plays in the preseason, it shouldn't slow down
The Raven's power running attack
Well, maybe on paper. But in reality Willis McGahee is coming off knee surgery during training camp. In addition to the injury McGahee has apparently struggled with Cam Cameron's new offense and hasn't taken his rehab very seriously according to reports. His backup, Ray Rice, comes out of that noted football factory, Rutgers, and is probably too small to be an every down back if called upon. Musa Smith and Mike Anderson are gone, Cory Ross is on the IR and the only other back on the roster is practice squader Marcus Mason, who was just cut by the Redskins. Still, at least we can count
Our former MVP Quarterback and his experienced backups
No, no we can't. The Quarterback closet is bare. Steve McNair, who struggled with injury and incompetence last year (we are used to the incompetence, the injury is new) retired to pursue drunk driving pursuits. Veteran Kyle Boller is bad, injured and out for the year, which is probably a positive. Last year's 5th round pick, Heisman winner Troy Smith, was expected to take over the starting role, but has been laid out with Tonsillitis and has lost nearly 20 pounds (imagine that, a Raven's QB having trouble swallowing, they've never had a problem sucking). His return is uncertain, leading the Ravens to bring in 11 year veteran Todd Bouman, who is on his 6th team and who hasn't thrown a regular season pass in three years. Raven's officials have been unable to come to terms with a voodoo doctor to animate the corpse of Johnny Unitas. All this means that the starting job has been handed, by default, to
First round draft pick Joe Flacco, who comes with an impressive resume
Or not. Flacco wound up at traditional powerhouse Delaware after failing to beat out Tyler Palko (TYLER PALKO!) for playing time at Pitt. After an average season in 2006 Flacco exploded for 3600 yards and 18 TDs in 2007, though a quarter of that came against the swinging door defense of Navy. He jumped into the first round after a great combine and senior bowl, and threw a ball 74 yards in his workout. Thankfully for Ravens fans he did not do so from his knees, preventing mass suicides as everyone suffered Boller flashback. In his first preseason possession he immediately fumbled the ball, and followed that up with an interception in his next possession. Coming off a horrid preseason, at least we know he can count on
An impressive array of pass catchers
Derrick Mason is coming off a quiet 103 catch season, but he is 34 and showed it in camp. Mark Clayton looks to be one of Ozzie's rare first round misses (and the current third quarterback) and Demetrius Williams is coming off a severe lower leg injury. Stud Tight End (that just sounds dirty) Todd Heap missed 10 games last year due to injuries, backup Dan Wilcox also missed most of last year with injuries, Quinn Sypniewski is out for the year, and Edgar Jones was on defense last year. This group isn't going to make any big plays to bail out Flacco, meaning the Ravens will be left to count on their
Outstanding kicking game
Really? That's the only one that doesn't get a strike through? Fuck. While Koch and Stover are among the best at their positions, I'm relatively sure this means the Ravens are boned. At least we've got the
Orioles
Maryland Football
Maryland Basketball
The Wire
hope
Michael Phelps (and his mom).
Final Prediction: 4-12