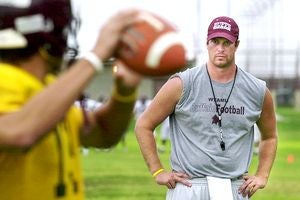 Ryan Leaf's story is never one that's regarded with much empathy, given how cantankerous and bitchy he was throughout his brief, spectacularly awful NFL tenure. He's main accomplishments as an NFL quarterback are being consistently ranked in the top three of all-time draft busts or the top three all-time locker room freak-outs . A couple of years ago when Leaf took jobs at West Texas A &M as both head golf coach and assistant football coach, it appeared as if he'd finally reached the most pathetic and darkest depths of a failed career. How could a one-time first-round draft pick even get up in the morning to face the day as a lowly coach at Division II school? Well, as we find out in this Portfolio.com piece on Leaf, the man has come to terms with his former life and is extraordinarily exceeding at his current one. Oh, and he's still filthy, stinking rich:
Leaf joined Don Carthel's West Texas A&M staff in 2006. His success has been nothing short of astonishing: In his first season, the Buffaloes put up 5,139 yards of total offense and ranked second, nationally. Quarterback Dalton Bell completed 386 of 583 passes for 3,998 yards and 32 touchdowns. In 2007, the Buffaloes gained 5,155 passing yards, averaging 396.5 yards passing a game and tossing 51 touchdowns. Their pass yardage and T.D.'s were tops in the country. That same year, Leaf also became the school's golf coach. Once a 2-handicap, he drives his team to tournaments across Texas and New Mexico in a 15-passenger bus. He lives modestly in an 1,800-square-foot home in Amarillo. Leaf says he banked the millions he made in the N.F.L. and, for the last 10 years, has lived off endorsement money from Nike, Pepsi, and a couple of football-card companies.
After reading this, I can't figure out if this story makes me feel worse about myself or better about Ryan Leaf. Or worse about myself for possibly admiring Ryan Leaf? Or worse because I'm actually conflicted over having such inner turmoil about Ryan Leaf's post-NFL career. Drinking now.
Thrown For A Loss
[Portfolio]