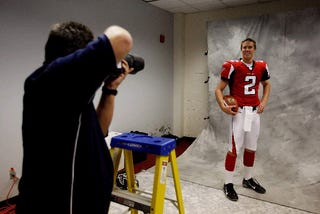 The NFL season has officially started, so it's time to finish the impassioned season previews from various writers, bloggers, diehard fans, cooks, TV personalities, and numerous other walks of life whom consider football the only sport worth watching. Clearly, these previews will be running until, oh, the first round of the wild card playoffs based on how quickly they've been coming in. So, for the next few days, expect a lot of these. Actually, let's see how many we can get out in one day. Today: The Atlanta Falcons. Your author is Zach Hislip who writes at TakeThatSatan.
Where does one begin to discuss the clusterfuck that is the Atlanta Falcons? Should I start at the beginning and discuss how the Falcons started as an expansion franchise in 1966 in an effort to bring substandard football to the people of Georgia and have failed to produce back-to-back winning seasons ever since? Should I bring up the fact that the Falcons traded a young Brett Favre for a bag of wishin' beans? Should anyone, anywhere ever speak of the "Dirty Bird" again. No. As you and I both know, you cannot discuss the current state of the Atlanta Falcons without first speaking of two men: Michael Vick and Bobby Petrino.
A Brief History in NFL Douchebaggery
Part 1: Ron Mexico is a bad, bad man
In 2001, the Falcons were a couple of bad seasons removed from their improbable appearance in Super Bowl XXXIII (a 34-19 "squeaker" that the Broncos eventually won when they showed up for the opening kickoff and then most of the Atlanta secondary was arrested for soliciting prostitutes during the halftime show). Desperate to get back to Show, the Falcons made a blockbuster trade for the #1 pick in the Draft. With it, they selected future Hall of Fame RB LaDanian Tomlinson. Sorry. I can dream, can't I? In reality, the Falcons front office traded several high picks and a bit of their souls to get Michael Vick. From the beginning Vick was filled with promise (and apparently marijuana, herpes, and an inexplicable hatred for man's best friend). He had a rocket arm, unreal speed and agility, and an uncanny ability to elude tacklers. We fell in love with him, in a football sense. Arthur Blank, however, seemed to literally fall in love with Vick to the point where one could imagine Blank sitting in his office late at night, doodling Vick's name in his trapper keeper. As a result, Blank signed Vick to a record breaking contract (if memory serves, it was something in the neighborhood of 20 years, $3 trillion, $500 billion guaranteed) By all indications, the endorsement of Vick's new contract came with an exchange of friendship bracelets and an official signing of yearbooks. Regardless of the particulars, Vick was essentially made the managing partner of this crazy little enterprise we like to call the Falcons. Soon thereafter, Vick decided that he wanted to become more than just a running quarterback. This apparently meant becoming more of a refined pocket passer and also a gigantic asshole. Sadly, he only accomplished one of his goals. In the years following the signing of the contract (and Vick's official designation as Blank's BFF), Vick unleashed a veritable torrent of bad behavior and uncatchable passes. He and/or members of his posse were busted for weed. We found out that Vick was in the habit of picking up girls under an assumed name and giving them STDs: Ron Mexico and herpes, respectively (it's still mind-boggling that a grown man would choose to call himself Ron Mexico and that a grown woman would have sex with a man that she believed was named Ron Mexico) Then Vick gave the hometown crowd the finger. (You stay classy, Ron Mexico). But the worst insult of all was the fact that Vick couldn't hit a receiver on a simple slant pattern! He couldn't even dump it off to his running back without throwing it at his feet or sailing the ball five feet over his head. I can't tell you how many times I saw a receiver drop a ball because they were running an underneath route and Vick fired the ball as hard as possible at them. And finally, in 2007, the final bombshell landed. Unless you've spent the last few years in a hut somewhere in Montana plotting the overthrow of the government, you probably already know that Michael Vick, the starting quarterback of the Atlanta Falcons, was arrested, charged and pled guilty to several counts of felonious dog fighting. Too much has been written and too many emotion-filled debates have been had on this topic for me to even want to touch it anymore. I'll just say this, I, for one, felt betrayed. It was like finding out that your uncle isn't really your uncle; he's just some guy that likes to watch you sleep. . .and he also brutally kills dogs. Ultimately, we'll remember Vick as a superior athlete that left us all with a few meaningless records, a crippling lack of cap space and the bad taste in our mouths that for most of us is disillusionment and bitterness, but for a few of us is also herpes.
Part 2: The Devil Came Down to Georgia. . .And Then Left 13 Games Into His First Season
Bobby Petrino is a dick. Pure and simple. You know it. I know it. Hell, Bobby Petrino probably even knows it. The man is an evil, greedy, cowardly buttfuck. He couldn't treat the players like indentured servants, so he ran away with his tail between his legs. I'm not even mad anymore. I'm just. . .what's the word?. . .filled with rage. I simply want the man to die, choking on his own excrement. Okay, I was just kidding with those last few sentences. I was never really mad. I was actually happy he left, no matter how bad it made our organization look. He was running the team into the ground. It was near revolt. If it were possible to have a mutiny on a football team, I'm pretty sure we would have seen it by seasons end. Imagine a Gatorade shower, but instead of a shower it's more like a glass aimed to the face and instead of Gatorade, it's acid. Yeah. That's the kind of loathing we're talking about. In the end, Bobby Petrino's brief stint as an NFL head coach will leave a lasting legacy. No college coach will be hired by an NFL franchise ever again. Ever. At least not until the last of the current owners dies off (which is a long way off. I hear that Jerry Jones sleeps in a cryogenic chamber and feasts upon the souls of the damned) Also, it has made the Atlanta Falcons into a laughingstock – the kind of laughingstock where a lumpy, man-boobed ego-manic (*cough -Bill Parcels – cough*) foregoes ridiculous money and the chance to run your organization like a black-hearted tyrant, to take the same job with a team that was one win away from becoming the absolute worst team in the history of professional football for the simple reason that he thought that that team had more potential. That's as low as it gets, right? It can't get worse than this, can it?!? Can I just take a moment here and ask if it would be possible to apply for an official "Curse" designation like the Cubs have and the Red Sox used to have? Only this time, for an entire city? The Braves suck right now, sitting at approximately 60 games behind the Mets. And the Hawks just lost Josh Childress to the Greek League! Didn't even know that was an option. Now I have to live in fear that they're going to trade Josh Smith to the Harlem Globetrotters for $97 and the prop bucket filled with confetti. Oh, yeah, and someone told me recently that Atlanta now has a professional hockey team, but I'm pretty sure that that's just the diseased ramblings of a madman. Anyway, doesn't this qualify us for a "curse" – the kind that makes people in other states root for you for no apparent reason and makes your merchandise triple in price? We could really use it right now. 2008 Atlanta Falcons So how bad has it gotten? A few days ago I drafted my fantasy team and did not select a single Falcon. Maybe I'm a homer, but I always found a way to justify taking at least one Falcon. (One year, in a fit of preseason induced delirium, I picked the Falcon Defense and Special Teams. True story. Oh, my league still laughs about it) But as I looked at this year's roster, I didn't find one guy worth the pick. Not because there is no talent on Falcons this year. There might be. But we don't know. Not yet, anyway. As I looked at the "Expert Projections" for the Falcons, I had to laugh. How the hell did they accomplish that feat? Has there ever been a non-expansion team with more question marks than this one? A rookie head coach, a rookie quarterback, a starting running back that spent the last four years as LTs backup, an inexperienced offensive line, and a defense that has lost several key veterans and consists of about half rookies or second year players? I honestly felt bad for those guys trying to make their stat projections. Did they just randomly select digits? Was it Ouija board? Or was there a room full of computers crunching numbers for days at a time? Head Coach By all accounts Mike Smith is a fine head coach. From what I've read he's got a good idea of what he's doing, communicates well with his players and has a plan for this team. But this is Atlanta and frankly we've been burned before. We just never know what we're getting. He could end up being the second coming of Lombardi or we could be watching him sob uncontrollable for the entire 4th Quarter by Week 10. It's a crap shoot. All I can ask is that you please be tender with us, Mr. Smith. Quarterback At least throughout all of the Vick ordeal, Arthur Blank and the Falcons front office learned a valuable, all-be-it, painful lesson: You don't give a player a huge contract unless he is a proven winner and you certainly don't give him the kind of guaranteed money Vick received without absolute assurance. Wait a second. . .wait just one second. . .Yep, the Falcons signed rookie quarterback Matt Ryan to unheard of $72 million/$34.75 guaranteed contract. WTF, Blank?!? Is this a cry for help from a desperate man?!? Why would you do that? How can this happen again? And in a stroke of genius, the coaching staff decided to put their 72 Million Dollar Man behind a line that gave up 47 sacks last year. Yes, let's do try and end his career in his first season. But at least you know exactly what you're getting with Matt Ryan. After all, he did go against the toughest defenses in the country playing in the ACC! The ACC!! "He played Wake Forest, Maryland, AND Duke!! In the same year, you say!! Sign him immediately!! Pay him whatever he wants!! Of course I'm not concerned that he threw a ton of interceptions. Why would I be?!" Is that what happened, Blank?! Is it?! Is it?! But, Zach, you might ask, isn't this kid the perfect person to build an organization around? I would say yes, if my organization was some sort of Christian folk singing group. I mean look at him. He looks like he came straight from a Norman Rockwell painting. He looks like some gargantuan Opie or Howdy-Doody. He's going to be great at rebuild the Falcons' reputation in the community. But on the football field? No idea. I rest easy at night, though, knowing that we have such quality options at backup quarterback if Ryan were to go down. They're like a good insurance policy. . .because you can never have enough insurance, can you? If you or someone you love is interested in obtaining more information about affordable insurance, just see our friendly associate, Chris Redman. . .Oh wait, that's right, Chris Redman is no longer selling insurance, he's the Falcons backup quarterback. Running back During the off-season, Atlanta signed career back-up Michael Turner to a hefty contract. And why the hell not? Why would you want to know what you're getting into when you're trying to rebuild a franchise? Just sign someone and fast! "What, he's got only 225 career carries? But he was backing up LT! He's just got to be good!" Am I getting closer, Blank?! Turner has looked good in the preseason, but then again its only preseason. And as for his stats, they don't really tell me anything considering that he got most of his snaps in junk time when LT had already worn defenses out. I pray he's good. I mean, I like Jerious Norwood. Had him on my bench all last year. But he is not an every-down back and I think we all know that. Tight End Apparently no one told the Falcons that it was advisable to have a tight end on their roster, so they didn't bother. Seriously, though, I just looked at the depth chart and their starting TE is some guy named Ben Hartsock. I'm pretty sure that's a made-up person. Good thing you released Crumpler in the off-season to make room for this Chaz Thrustbone character. Wouldn't want to have a sure handed, big bodied tight end for your rookie QB to throw to or anything. . . O-Line The Falcons will be starting a second year player, last year's second round pick, Justin Blalock, and a rookie, this year's other first round pick, Sam Baker, on their offensive line. Depending on how you look at two fresh, inexperienced faces on a line that gave up 47 sacks last year, this could be a really good or a really bad thing. Defense Atlanta lost some talented defenders during the off-season, CB DeAngelo Hall and DT Rod Coleman. And they have replaced them with. . .well, they haven't replaced them. I'm not sure if they were planning on it and just didn't get around to it or if they spent all of their money on their new handsome, dog-loving quarterback. I guess they'll have to make do with what they have. They did get Grady Jackson back anchoring the defensive line (or anything else that he stands on or around) which means that they should be stout against the run. . .provided that opposing teams decide to run straight into Jackson's enormous gut. The pass rush should be. . .well. . .who knows. Former first round pick, DE Jamaal Anderson (not sure if they drafted him based solely on his name but it's looking like another of a long line of bad draft picks) needs to vastly improve on his rookie season in which he recorded exactly zero sacks. The good news is that seems almost impossible not to do. RDE John Abraham is due for his next serious injury in about two weeks, so that should be fun. See you in 2009, John! The one strength for this team should be their linebackers. Michael Boley is a solid player, Keith Brooking moves back to his natural position at OLB, and rookie Curtis Lofton looks like he could be the answer at MLB that Edgerton Hartwell never was. Conversely, the secondary looks like a veritable who's who of unknown veterans and rookies or second year players. . .all except Lawyer Milloy who seems to be channeling Deon Sanders these days – in the off-the-field distractions and contract demands, not in the football skill department. All-in-all, it should be one hell of a season!
What to Look For in '08
1. Arthur Blank's relationship with Matt Ryan – will they start going steady immediately or will they just play it cool for a while? Will Arthur need some time after his messy breakup with Michael or will he just jump back into the dating scene right away? Tune in and find out! 2. 6th Pro Bowl for Brooking? Will he amass 250 or so tackles when no one else on the defense seems willing or capable of tackling anyone? 3. Which used car dealership will Joey Harrington be working in by season's end? After being cut by the Falcons, several used car lots expressed interest in Harrington with Ted's Pre-Owned Autos in Phoenix, AZ making a strong offer to "give him a shot" if Harrington could avoid the major screw-ups that hampered his NFL career. Or will Joey want to remain closer to home? 4. What will be the next scandal that throws the team into a tailspin and shakes the faith of the fan base? Will Roddy White punch a baby in a supermarket? Will new kicker, Jason Elam, be caught robbing graves by torchlight? Will head coach, Mike Smith, fake his own death and flee to Honduras?
Predictions
The Falcons end the season 2-14, rallying behind Chris Redman (who replaces Matt Ryan in Week 8 when Ryan goes down with a fractured pelvis and lacerated spleen) to win the last game of the season to avoid equaling the worst win total in team history. Also Joey Harrington throws everyone a curveball and decides to sell carpet in Michigan City, Indiana. Go Dawgs!!