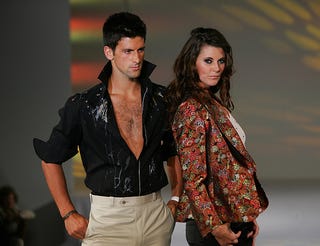 Dylan Stableford writes occasionally about tennis for Deadspin. It's called "Droppin' Deuce With Dylan Stableford."
Last night's heavyweight card at the U.S. Open—the best of this year's tourney by far—didn't disappoint. In a battle of big ball smackers with, as we've pointed out
numerous
times
,incredibly hot girlfriends, Serbian impressionist Novak Djokovic outlasted Andy Roddick in front of his relatively reserved home crowd—Brooklyn Decker, new coach Patrick McEnroe, old coach Jimmy Connors, Regis Philbin (who spent crucial points in the third set reading a fucking book)— 6-2, 6-3, 3-6, 7-6, with a combination of hard angles and defensive lobs-turned-winners driven by, apparently, rage over some offhanded comments Roddick had made about Djovokic faking injuries.Via Djokovic's post-match,
on-court interview with Michael Barkann
: "You know, Andy was saying I have 16 injuries in the last match …Obviously, I don't—right? … That's not nice, anyhow, to say in front of the crowd that I have 16 injuries and that I'm faking it." Djokovic, who dazzled the Flushing faithful last year with his hysterical impressions of fellow players on the tour (he does a pretty good Roddick;
YouTube that shit if you haven't seen it before
was immediately pummeled with boos. (So much for the goodwill, Screech!) He later tried to apologize: "I made maybe a mistake by saying that in front of 20,000 people in his city and his favorite tournament." No matter. Heading his Saturday semifinal showdown with Roger Federer, the Swiss string-master might as well've been born and raised in Queens, 'cuz Djokovic will be about as loved as John Rocker on a 7 train. In the other Saturday semi, weather permitting, Rafael Nadal will face Andy "Five-Set Prone" Murray, setting up Nike/Don King/CBS dream showdown: Rafa-Roger III. As the Mannings say, it'll be on like Donkey Kong. On the women's side of the draw, Jelena Jankovic slapped Elena Dementieva (Rick Chandler's favorite) in straight sets, and will face the winner of tonight's match between Dinara Safina and Serena Williams. (The mere sight of her across the net has to be intimidating to other chicks on the WTA Tour. The only difference between Williams and Brandon Jacobs at this point is a helmet.) Bonus for reading this far: In the girls' draw, 16-year-old Coco Vandeweghe—niece of Kiki—won her quarterfinal match to reach the semis. This is apropos of nothing. I just like saying "Coco Vandeweghe."