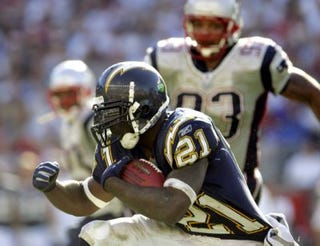 The NFL season has officially started, so it's time to finish the impassioned season previews from various writers, bloggers, diehard fans, cooks, TV personalities, and numerous other walks of life whom consider football the only sport worth watching. Clearly, these previews will be running until, oh, the first round of the wild card playoffs based on how quickly they've been coming in. Today: The San Diego Chargers. Your author is Alex Cohen.
During the 1998 NFL Draft, the San Diego Chargers traded two first round picks, a second-round pick, Patrick Sapp, and Eric Metcalf to the Arizona Cardinals. In return, the Chargers moved up one spot from third to second and selected a highly touted quarterback from Washington State. Soon after the draft, the new QB stoutly declared, "I'm looking forward to a 15 year career, a couple of trips to the Super Bowl, and a parade through downtown San Diego." Ten years later, the Chargers still haven't won a Super Bowl, and Ryan Leaf has disappeared completely. Odds are, he's currently located in downtown San Diego somewhere—delving among the packs of crack dealers that scavenge Petco Park's periphery. Some of you might be surprised to hear that Ryan Leaf actually scored two points better than Peyton Manning on the notorious Wonderlic test (27,25). Apparently, a quality score on this test is only good for swearing at the media and starting fights with old head coaches. You stay classy, San Diego. In fact, his career completion rate of 48.4% pales in comparison to his 83% success rate in delivering crack to wide open hobos. Thank god we didn't draft Michael Vick too—just thinking about that situation makes me cringe. I can't really put into words how difficult it is to be a San Diego sports fan. We have never won a major sports championship (San Diego Gulls don't count?!?! Fuck..), and we are no strangers to losing seasons. If you have seen the Padres play a game at home this year, it is easy to understand why the front office decided to lower the alcohol content in all of their brews. Ever the skeptic, I think the window of opportunity is closing for this San Diego Chargers team. Time for these Bolts to sack up and win one for San Diego.
Items to Consider:
1. Philip Rivers: He has a healthy knee. He talks shit to opponents. I like his panache. The white Chad Johnson? Maybe a name change is in order... I'm leaning towards Philip Uno Siete. 2. Spanos Family: Dean Spanos and his incessant douchebaggery. Stop trying to move our team to Los Angeles. That city is smoggy and smells like Dodgers fans. 3. Shawne Merriman: Nothing is more aesthetically breathtaking on a Sunday afternoon than seeing this superhuman maul an opposing quarterback and celebrate by inducing a seizure. Unfortunately, his knee isn't healthy. I don't expect him to last past Week 5. 4. AFC West: After getting destroyed by LSU on the opening weekend of college football, I expect the Appalachian State Mountaineers to schedule an easier first week opponent next year. I wouldn't be surprised to see the Chiefs. Brodie Croyle is Charlie Whitehurst's bitch. 5. Michael Turner: He was under-utilized as a Charger. For those of you who haven't seen his mid-season beard, it truly is a sight to behold. Despite his fantastic chin fur, I expect the Chargers won't miss him. Darren Sproles is flat-out nasty, and Jacob Hester runs the same way as Turner.
Offense:
This efficient unit is returning 10 starters. The only departure is professional bowling ball Lorenzo Neal—who departed to the Ravens in free agency. After dealing with an injury in training camp, though, it appears as if Andrew Pinnock has lost his job to the capable undrafted rookie Mike Tolbert. LT should once again run wild in the AFC West. And if LT does somehow forget how to play running back, he can always fall back on his successful acting career ( ). The bigs up front look to be dominant again, even with Nick Hardwick and Marcus McNeill starting the season on the bench with injuries. After being acquired from Miami midseason, Chris Chambers showed everyone around the league that he could still get the job done when paired with a quarterback that actually had the arm strength to get him the ball on 10 yard out patterns. Vincent Jackson had a great postseason, and has really developed into a very solid option. He should continue to improve as a third year wideout, but his fantasy value is limited since he is essentially the 4th option on the offense. Antonio Gates has been struggling with the notorious "turf toe" this offseason. I hate saying "turf toe." To me, it sounds like the football equivalent of a child's "boo boo." But I guess we can always gameplan like "the hoodie" and put some of our best offensive players on the injury report for 450 straight weeks to try and throw off our opponents. Finally, we got the signal caller. Philip Uno Siete is the type of the guy that everyone loves...when you're inside Qualcomm Stadium. He has an affinity for pissing off anyone that isn't affiliated with the Chargers. And that's exactly why I'm glad he's the guy leading this team. Coming off knee surgery, there is no reason why this season shouldn't be his best yet. This offensive group is loaded with talent. When you pair that with six games against division opponents who field high school teams, expect a lot of points on the board.
Defense:
Jamal Williams is huge. He eats steaks that weigh more than Darren Sproles. When he goes, the defense goes. Luis Castillo is the quiet one on the line, but he has really become one of the better ends in the league. Then there is Igor Olshansky. He scares the shit out of me. I'd be surprised if he HASN'T killed someone on the football field. But what really makes this team go is the plethora of linebackers. There are about 8 guys that could effectively fill in. Add Ron Rivera in the mix as the linebackers coach, and that is a deadly combination. With Stephen Cooper on a 4-game suspension after buying crack from Ryan Leaf, veteran Derek Smith should replace him admirably. Matt Wilhelm has improved every year, and now finds himself as one of the leaders on this defense. On the outside, the Chargers boast Shaun Phillips and Shawne "The Village Idiot" Merriman. The guy is trying to play with two damaged ligaments in his knee. There are only two people who can help him now: God, and Dr. James Andrews. I'd be amazed if he makes it through the season. The starting corners are two of the best in the league. Antonio Cromartie is going to intercept 9 passes against Peyton Manning this year, and then sign a 4-year contract with the Padres. Quentin Jammer is the most underrated corner in the league. Another good season should get him some Pro Bowl recognition. Finally, the defense is rounded out with Eric Weddle and Clinton Hart manning the safety spots. This group has few weaknesses, and sholuld once again be among the league leaders in takeaways.
Everything Else/Predictions:
I don't like Norv Turner. When it comes to taking some of the most talented football teams in NFL history, and making them underachieve, he is the man. He also looks perpetually confused. If you've seen his face during a game, you know what I'm talking about. Unfortunately, he will continue to ride the coattails of LT, Gates, and Co. into the postseason. I'd like to see Ron Rivera running the show. The Chargers have a very manageable schedule this season, and another 12-win season is well within reach. A healthy Philip Rivers will have his best season as a pro, and Darren Sproles will continue to run under the legs of defenders. Merriman won't last the season, and everyone else around the league will finally learn the name of either Jyles Tucker or Marques Harris. Jammer will finally make the Pro Bowl, and Alex Spanos will once again try to move the team to Los Angeles. In a perfect world, February will roll around and the Chargers will finally be back in the Super Bowl. Then, after beating up the Cowboys, me and the rest of the Chargers faithful will go to downtown San Diego and throw a huge parade. Then we will all throw our empty beer cans on Ryan Leaf. Redemption.