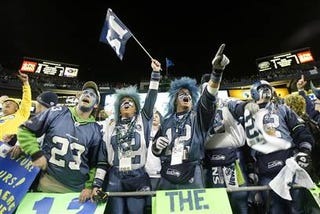 The NFL season has officially started, so it's time to finish the impassioned season previews from various writers, bloggers, diehard fans, cooks, TV personalities, and numerous other walks of life whom consider football the only sport worth watching. Clearly, these previews will be running until, oh, the first round of the wild card playoffs based on how quickly they've been coming in. Today: The Seattle Seahawks. Your author is Seth Kolloen.
Seth Kolloen is the executive editor of
Sports Northwest Magazine
. Just like Stephen A., Kolloen filed this preview from his Blackberry on Friday night while at the Mariners/Yankees game.The fact that I'm looking at about 10000 empty seats at a Friday night Yankees/ Mariners game on as gorgeous a night as Seattle's going to get in September tells me this: the Seahawks are the only hope for saving a dismal sports year in my town. Consider: the Mariners were a complete bust, the Sonics fucking left, and we don't have an NHL team. (*
Aw crap, there goes Brandon Morrow's perfect game. No hitter still intact
*) As you'll no doubt hear 86000 times during a Seahawks telecast, this is Mike Holmgren's final year as Seahawk coach. There's a school of thought that Holmgren will "coach for broke" this year because he has "nothing to lose." While I'd like nothing more than a steady diet of first-down double-reverses and halfback passes, I suspect Holmgren will continue his traditional West Coast offense stylings. (*
Ooh! Marques Tuiasosopo's little brother just got his first major league hit
!*) Not least because, unlike last year, he has a running back who can catch.(cough.Shaun Alexander, cough) and a tight end born after the Nixon administration (enjoy your AARP benefits, Marcus Pollard). Holmgren's leaving his job as coach—he already lost his job as GM in 2005. In February of that year, the Hawks hired Tim Ruskell to pick the players. His charge: to rebuild the Seahawks defense. After first picking Lofa Tatupu and Leroy Hill in his first draft as GM, Ruskell has steadily built a speedy and talented (if small) defense. The Hawks new commitment to defense was further proved when they named secondary coach Jim Mora Jr. as Holmgren's successor. Along the way they refused to guarantee qb coach Jim Zorn a job in the new administration—sealing Zorn's decision to take the Redskins OC job, and eventually become the head coach. That now seems like a good choice as well. The one black mark on Ruskell's tenure—permitting the Vikings to sign away LG Steve Hutchinson—has been somewhat fixed now with the signing of free agent guard Mike Wahle to protect Matt Hasselbeck's blind side with Walter Jones. (*
Brandon Morrow now has a no-hitter through five innings. There are about 10 millon guys in the tri-state area screaming "who da fuck is dis guyyy?" at their Yes Network"
*) Protecting Hasselbeck will be more important than normal, since #8 is beginning the season dinged up. Hasselbeck's balky back caused him to miss most of the exhibition season (though Hasselbeck claims he's "100 percent".) Would've been nice if Hasselback had had time to throw to the young receivers the Hawks are counting on—after a rash of injuries, the receivers after Nate Burleson are Courtney Taylor, Logan Payne, and Ernie Kent's son Jordan. They are calling themselves, charmingly, in my view, "The Mystery Men " (*
strikes out jeter! No hitter through six! And the green boat wins the between-innings hydro race!
*) A new running back rotation fills the other skill spot, with some combo of Maurice Morris, Julius Jones, and T.J. Duckett filling the sparklely ballet shoes of Shaun Alexander. The ongoing story will be: can the Hawks send Holmgren out a winner? God, your going to get some sappy soft-focus crap if the Hawks make the playoffs. But throw us a bone, won't you? We've had a tough year. (*
Though a 2009 pitching rotation with Felix Hernandez. Erik Bedard, and Morrow at the front end is suddenly sounding very nice.*
)