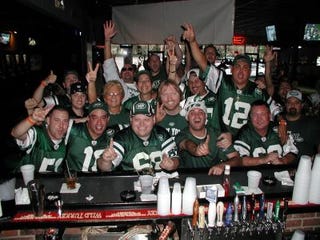 The NFL season has officially started, so it's time to finish the impassioned season previews from various writers, bloggers, diehard fans, cooks, TV personalities, and numerous other walks of life whom consider football the only sport worth watching. Clearly, these previews will be running until, oh, the first round of the wild card playoffs based on how quickly they've been coming in. Today: The New York Jets. Your author is Thomas Roberge.
Thomas Roberge is a Jets fan, but not a sports writer. He's a book review writer. Close enough.
Behold the Pale Horse: The Gunslinger
Brett Favre. There, I said it, got it out of the way. Henceforth he shall be referred to as the Gunslinger. When the deal went down, I was utterly confused about how to feel. I like to imagine that if I were in a bar with my whiskey-honey voiced girlfriend and the Gunslinger was sitting at the next table, I'd have this conversation:
Me:
And you must be Brett Favre. Look, darling, Brett Favre. The deadliest pistoleer since Wild Bill, they say. What do you think, darling? Should I hate him?
Girlfriend:
You don't even know him.
Me:
Yes, but there's just something about him. Something around the eyes, I don't know, reminds me of... me. No. I'm sure of it, I hate him. On the one hand, he holds just about every passing record there is to be held (ahem, apart from career passing accuracy, currently held by Stand Up Guy Chad Pennington). On the other hand, he's been around long enough to set just about every passing record there is. He also comes with the kind of baggage (hyperbolic accolades from the likes of Peter King, Chris Berman, and John Madden) that turns a sane fan insane. Instead of losing because Pennington/Clemens couldn't put together a fourth-quarter drive of more than nine yards, we'll lose because the Gunslinger will throw an interception fifty yards downfield. I'm withholding judgment, but I'm not optimistic.
And Hell's Coming with Me: The Supporting Cast
The Gunslinger's supporting cast is decent, bordering on pretty good. Blocking for him is a revamped line that features a pair of old guys no one else wanted to pay (Faneca and Woody), a pair of young guys who are still finding their footing (D'Brickashaw Ferguson and Mangold), and a man who I can only describe as serviceable (Moore). They could protect him like the Earp brothers protected Wyatt, or they could protect him like Wyatt protected his brothers. And in terms of run production it'd be almost impossible to do worse than the '07 line did (19th in the league).
Thomas Jones needs to have a big year. Nothing else to say.
Catching the majority of the Gunslinger's heat from his smoke wagon will be Cotchery (coming off of a career year in '07 with 82 recs and 1130 yds) and Coles (who's itching to recreate his '06 output: 91 recs, 1098 yds, and 6 TDs). Watering the horses and ducking behind whores when the shooting starts will be a converted QB with a penchant for dropping balls (Brad Smith) and a second year guy who missed his entire rookie season with a foot injury (Chansi Stuckey). Your guess about the TE situation is as good as mine: no one seems to really like Baker; Bubba Frank is old but might be rejuvenated now that the Gunslinger has rolled into town; and rookie Dustin Keller is, well, a rookie. Overall production will be up: when the Gunslinger comes to town, the local help falls in line.
You're No Daisy! You're No Daisy at All: The Defense
The Jets spent some serious capital in the off-season in an attempt to improve on their 18th best defense (29th against the run!), bringing in tackle Kris Jenkins and linebacker Calvin Pace, and drafting Ohio State linebacker Vernon Gholston. I'm lukewarm to all three of these potentially (probably) overrated guys, even Gholston, and I'm OSU alum. The backfield is anchored by Justin Miller and safety Kerry Rhodes, the one guy you cannot possibly find fault with if you're a Jets fan. This is a man who would accept a deputy's badge, and all of the responsibility it entails, without hesitation if you suddenly found yourself the sheriff of a small, lawless town flush with silver money and Latin-speaking outlaws. The D will improve, but the question is: how much? I boldly say: maybe enough.
I'm Your Huckleberry: The Mangenius
I remember thinking, shortly after the Gunslinger rode into town, that this year represents a free pass for Mangini. If the Gunslinger establishes order, it's to the Gunslinger's credit, not Mangini's. And if the Gunslinger can't hit the broad side of Ike's ten-gallon hat, it's the Gunslinger who will get strung up in the North Jersey wasteland. Sure, there will be a billion opportunities for bad coaching to cost the Jets a game, but since Herm left I barely recognize them because Mangini tends to prefer winning to conducting experiments with the notions of fluid time.
Nonsense, I Have Not Yet Begun to Defile Myself: This Fan's Hopes
A winning season. More TDs than INTs. Frequent utterances of "D'Brickashaw", "creating a hole", and "touchdown Jones" in rapid succession. And to never, ever see fourth-string QB Erik Ainge throw a pass. Thanks for reading (assuming you have), and thanks for the whoever backed out of doing this originally—forcing AJ to email me.