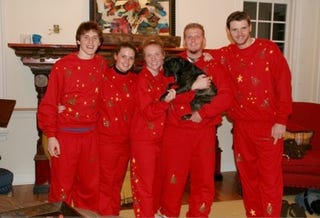 The NFL season has officially started, so it's time to finish the impassioned season previews from various writers, bloggers, diehard fans, cooks, TV personalities, and numerous other walks of life whom consider football the only sport worth watching. Clearly, these previews will be running until, oh, the first round of the wild card playoffs based on how quickly they've been coming in. Today: The Philadelphia Eagles. Your author is A.J. Daulerio.
A.J. Daulerio currently lives in Philadelphia.Last year, in early October,
Les Bowen
, the venerable Philadelphia Eagles beat writer sent me a nasty email ending with "good luck with getting a real writing job someday." Before that he called me a "fucking fraud" and typed with a level of invective and anger most often executed by teenage boys toward their cheating girlfriends. The reason was because I whole-heartedly believed a rumor that Eagles' head coach Andy Reid, beleaguered by the troubles caused by his drug-addled sons, was finally ready to step off the sidelines and tend to his family. This speculation was there all season, but after the Giants defensive line played havoc with an under-prepared Winston Justice, sacking McNabb eight times on a Sunday night game that was somewhat less painful thanks to the Phillies miraculously clinching the National League East, the rumor became more factual. Kind of. But Reid stayed. Thanks to myself and the other little Italian guy who runs Pro Football Talk, the rumor of Reid's demise became buckshot for plenty of mainstream media folks in Philadelphia about the utter worthlessness and scary irresponsibility of bloggers. In fact, Big Red himself ended up having to call a press conference about the whole thing, letting the world know that, no, he's not leaving until the Eagles don't want him anymore and he has no idea what a blog is. Actually, Reid said he's not "
blog efficient
", which is just hilarious. Throughout most of the 2007 season, I was writing for Philadelphia magazine's
Daily Examiner
and, admittedly, gave the Eagles a hard time. The Birds' PR flack Derek Boyko would call every week about a post I did or to answer one of my inane (but probing!) questions: "So, is it true that Jeremiah Trotter was cut from the team because he owns fighting dogs?" or "Hey, did Harold Charmichael lift up some Asian photographer by the throat?" were just a couple of examples. Most often, he would spit out an exasperated "No comment" then hang up immediately. (Or some times, just to let me know who was in charge, he'd send
his own message
.) This year it's all different. I'm no longer at Philadelphia magazine, Bowen and I are e-mail buddies, and Andy Reid is 100% focused on football and content to let his sons dry out in prison. Even the in-house stuff that would be distracting (Westbrook's contract, no star receivers — actually no experience receivers, today, and the ongoing saga of the overcrowded secondary) doesn't seem as turbulent as it has in season's past. Give credit to Andy Reid for that. Last year he weathered through his most challenging season, missed the playoffs, but still somehow has this town (and major media outlets) thinking this team is once again a Super Bowl contender. McNabb is healthy, the defense is better, and even though the offense begins and ends with Brian Westbrook, there seems to be a confident efficiency about them this season that hasn't existed since he Super Bowl year. Plus, there's DeSean Jackson, the tiny mite with the game-break speed and the fancy footwork that might be an answer to all of the
playmaker prayers
both McNabb and this town has been looking for since T.O. walked out on us. Maybe this is a team on it's last arthroscoped legs and the expectations are just too lofty for one without the Pro Bowl roster of the Cowboys or the Super Bowl swagger of the Giants. But this is a year that all of those things don't seem to matter anymore because, for once, I actually believe that Andy Reid knows what he's doing.