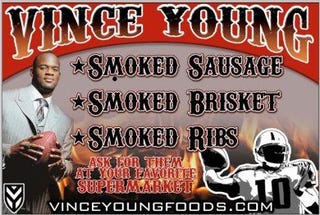 With all the furor over Tom Brady, Vince Young's fourth quarter histrionics have slid under the radar so far. Which is odd because it was as baffling, unexpected, and weird as anything that will happen on an NFL sideline this season. Briefly, the scene: On the previous drive Vince Young threw his second horrible interception of the day. His screen pass was picked off by a Jags
defensive end
. The second Young interception came one play after the Titans defense picked off the Jaguars David Garrard and boos cascaded down onto the field. The second pick was, if possible, worse than the equally inexplicable first interception which had led to the Jags only touchdown of the day. Young trudged back to the sideline with his head held low. Leading to this scene as told by the
Tennessean
.
He pushed away defensive tackle Albert Haynesworth, who was trying to console him, and took a seat on the bench. When it was time for the Titans to take the field following a three-and-out by the Jaguars, Young appeared as if he didn't want to go back in. Collins began taking snaps before Fisher came over and appeared to gesture for Young to take the field. The coach later said a tight hamstring - not a reluctant quarterback - was the issue. Asked about it five times during his postgame news conference, Fisher never changed his story.
Yeah, it's so bad Albert Haynesworth is trying to console him. I was at the game and Young's refusal to take the field was very apparent to everyone. So was the crowd's cheering reaction. As Kerry Collins—he of the gray beard and formerly quitting on his first NFL team—took snaps from Titans center Kevin Mawae, the crowd went crazy with cheers. Believing, mistakenly, that Jeff Fisher had pulled Young from the game. Just as the cheering reached a crescendo, Young came running back onto the field. Two plays later he was injured and left the field. The severity of the injury is not yet known. (Adam Schefter of the NFL network is reporting that Young tore his MCL and
will be out 2-4 weeks
.) After being helped off the field, Young left behind a 3rd and 15 for his back-up. Collins entered and immediately converted the 3rd and 15 and then led the Titans on a scoring drive that sealed the win. Leading many Titans fans to question, including this one, whether the team might not have a better chance of actually scoring points with Collins at the helm. After the game, a Titans 17-10 victory, many players questioned Young's attempt to quit on the team. What didn't quit was the Titans defense, something linebacker Keith Bulluck pointedly drove home. "No one is going to quit on this side of the ball.'' The latest incident raises an awful lot of unsettling questions. For the past two seasons Young hasn't appeared to have the mental fortitude to be an NFL quarterback. Some players perform well amid criticism and questioning of their abilities, Young only seems to thrive when he's being patted on the back. Combining the rumors that Young got Norm Chow fired, the strange comments about considering retirement, and now refusing, at least for a short while, to go back into a football game because the crowd wasn't behind you, and you have the makings of a real mess. Maybe VY needs to spend more time swilling Patron shirtless, because whatever he's doing now just isn't working.
Young grabs knee, spotlight
[Tennessean]