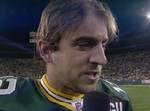 No, it wasn't a spectacular debut, but it at least it temporarily put some of the skepticism about the transition to rest. The most often used adjective to describe Rodgers 18-of-22 178 yard one touchdown performance he also scored on a rushing touchdown) was "efficient." But the Packers at least proved that the Vikings vaunted defense is penetrable with a game plan, which should make the NFC North a lot more interesting this year. The one email we received last night about Rodgers was this:
"During Rodgers postgame interview, the cameraman was on his right side, and the man's nose was massive. Cyrano de Bergerac massive. My wife wasn't even watching the game, and looked up and was absolutely stunned.But then the interview ended, and from his left side, the nose DRAMATICALLY changed. It had to be some sort of optical illusion, but we rewound the clip four times trying to figure out what happened."
Doubt we'll be able to find out an answer to Rodgers' retractable shnozz, but here are some other notable observations about his debut: • "Rodgers epitomized steadiness. He rarely, if ever, got himself into trouble with high-risk throws. He took the check-down passes when necessary and even scrambled his way out of potential trouble spots."
[Green Bay Press Gazette
] • "Rodgers found his footing in his quest to follow in Favre's cleat marks, the defense figured out a way to contain Vikings superback Adrian Peterson and the oft-questioned special teams delivered with a 76-yard Will Blackmon punt return for a touchdown in the Packers' 24-19 season-opening victory over the Vikings at Lambeau Field.The end result? An awfully nice beginning." [
Wisconsin State Journa
l] • "They just interviewed Aaron Rodgers. Damn, he looks just like Pinnochio. Unless something was distorted with the camera lens he has the biggest damn nose I've ever seen. My German Shepherd doesn't even have a nose like that." (
Ed. note — Guess there's something to that emailt
.) [
Chicago Bear Report
] • "Rodgers didn't make a franchise or a Packers-obsessed city and state forget about Favre. But that was never the point. Trying to erase 16 years of Favre in green and gold would be like trying to sell Brian Urlacher jerseys in the Lambeau Field gift shops. " (Includes nose video.) [
ESPN
]