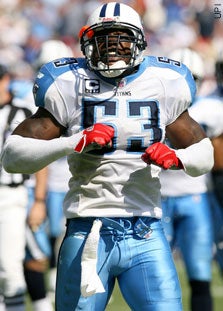 Football players are so witty. You see the comedic work Bulluck is doing there? He added a vowel! The Titans linebacker is still stewing over Chad Johnson scoring a touchdown and celebrating with a television camera as a prop last season. So now Bulluck is letting Chad Ocho Cinco (nee Johnson) know that he's coming for him. Telling theTennessean , "I saw him with that shoulder brace on the sideline, looking really dejected," Bulluck said. "He should see how that shoulder is. Tell him get that shoulder right ."
Bulluck doesn't like Ocho Cinco. He prefers "Oucho Cinco," a reference to the receiver's shoulder problems. "He's going to be on camera all day," Bulluck said, half-joking. "His shoulder … I don't expect him to run too many shallow crosses. I'm putting it out there for him to bite it, and I know he will."
I can't wait until Ocho Cinco takes the bait and responds. I suggest he add his own vowel, "Who is Keth Bullucko?" Killer.
Bulluck wishes Bengal well...for now
[Tennessean]