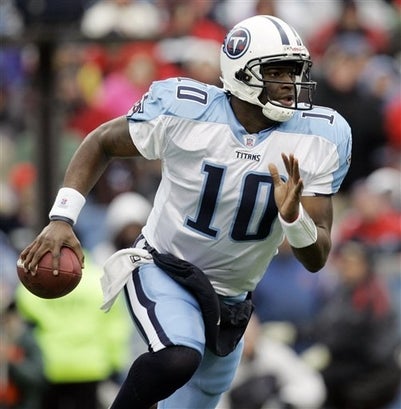 It's beginning to look like Young is on the verge of a full-scale collapse. All day long Nashville airwaves exploded with talk of Young's alleged refusal to return to the field after his second interception . Now, things off the field are looking worse. Last night at 12:30 a.m., according to WKRN News, Titans coach Jeff Fisher and Young had an emergency meeting at the Titans facility after Young left his apartment and couldn't be located for several hours .
According to sources, questions about Young's state of mind began when the quarter back left his home abruptly at 7:30 p.m. Monday. According to the same sources, Young seemed emotionally down and left his cell phone behind. Titans' officials alerted Metro police to be on the lookout for Young's SUV.
The video story from WKRN
is also here
. Eventually, after
alerting the police to be on the lookout for Young's SUV
, Fisher was able to track Young down and meet with him at the Titans headquarters. As he left the facility, Fisher pronounced the whole thing a "misunderstanding." Which is what Fisher also said about Young not going back into the football game. He also refused to go on camera and said his quarterback was fine. Leaving all this aside, Young's mental state seems to have moved well beyond a football issue and into a more serious realm involving potential mood swings and mental health struggles. You don't contact the local police force and ask them to be on the lookout for your missing quarterback's SUV if everything is going fine. Stay tuned, this whole situation is just getting started.
Concerns for Titans Quarterback prompt midnight meeting
[WKRN]
Titans worried about VY's mental state
[Music City Miracles]