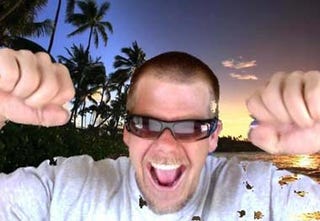 This gentleman here is Brian Butcher, 34, of Saratoga, Calif., a former frosh-soph football coach at Los Gatos High School. Butcher was, unfortunately, fired from the post this past spring. And so he did what you and I would have done under the circumstances, especially after repeated viewings of the movie
Office Space
: He broke into the school and tried to burn it down. Butcher's plan was stunningly audacious, and doomed from the start. He drove his car onto the front lawn of the school at 1 a.m., then broke into an athletic storage shed near the football field. There he obtained a shot put, which he proceeded to throw through a window in the gym. Once inside the gym he began collecting items — volleyball nets, wrestling pads, track and field equipment — and piling them in the middle of the court for a nice bonfire. Police responded to an alarm before he could light it, finding Butcher in his car with a significant amount of "flammable material." Los Gatos is only a few miles from Chandler Deadspin West Coast Headquarters, so I made a couple of calls and
came up with the url of Mr. Butcher's MySpace page
. It's a bit wacky, to say the least. In addition to the photo above, his blog section includes this entry excerpt:
"I am pretty proud of myself after getting fired from Los Gatos High School. There wasn't much love left in me and I have found it again. I plan to continue picking up trash all over the Bay Area this week. I have been averaging two hours a day 3 days a week for a total of 10 hours spread throughout 7 days which breaks down to 1.42 hours a day. I am going to see if the forces at bay allow me to increase my trash collective efforts to two hours a day. I wish myself luck!!!"
Butcher is being held in Santa Clara County Jail on a $30,000 bond. A court date is pending. Los Gatos is one of the premiere public school football programs in the San Francisco Bay Area, which "has a reputation for a stable environment and quality football coaching staff," said former area journalist and current Stanford University Sports Information Director Dave Kiefer, who notes that Buffalo Bills starting quarterback Trent Edwards is a Los Gatos High grad. "That's what makes this so surprising," Kiefer said. "Los Gatos just doesn't hire wackos."
Ex-Los Gatos Football Coach/Teacher's Aide Charged With Attempt To Commit Arson
[San Jose Mercury]