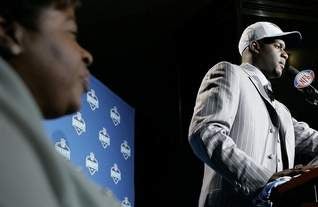 The Vince Young saga has taken another turn toward the bizarre — as if you expected anything else — with the quarterback reportedly telling people close to him that he's not prepared to continue his NFL career. Young, who went AWOL late Monday after meeting in turn with his mom, a psychologist and Titans head coach Jeff Fisher, finally turned up on Tuesday and had an MRI on the knee that he injured on Sunday against the Jaguars. Team doctors said he had a strained ACL and would miss from two to four weeks. But it could be a lot longer than that. Young reportedly has told his mother and close friends that he wants to quit the game .
Felicia Young said her son has grown weary of all the negativity he faces as an NFL star. On Monday, he indicated to those around him he didn't want to play football any more. "Vince has gone through a whole lot as a young person,'' Felicia Young said. "And I think he has done pretty well up to this point. But it is hard, all he is going through right now. He's hurting inside and out. But he will be fine if people are prayerful and help my baby boy out. He is a young man. He just needs a lot of love and support.''
So apparently, all negotiations for the return of his $51 million signing bonus are going to be handled by his mom, if it comes to that. She's going to call Fisher and let him know that her son is quitting and then she'll have to drive over to the Titans facility and drop off his uniform, stirrups and cleats, kind of like kids do at the end of the season in youth football. But how can Young be weary of football when he reportedly spent Monday night trading autographs in my neighborhood for chicken wings? Regardless, the Titans are moving on. Even with his injury it's not clear whether Young will play again this season. Which means Kerry "K-Gun" Collins will now be unleashing his 36-year-old cannon on unsuspecting NFL defenses. Ironic, since Collins himself has owned and lost starting roles with the Panthers, Giants and Raiders; at least some of those instances in connection with his fight with alcoholism. I'm already terrified that Collins is going to decide he doesn't want the pressure of being a starting NFL quarterback and the Titans will be the first team in NFL history to have two quarterbacks choose not to start for them. Oh, and the Titans have also
signed Chris Simms as Collins' backup
. Remember how the Titans thought they were going to be free from drama once Pacman was gone? Yeah, not so much.
Vince Young Hurting Inside And Out, Mother Says
[Tennessean]
Simms Takes Backup Role
[Tennessean]