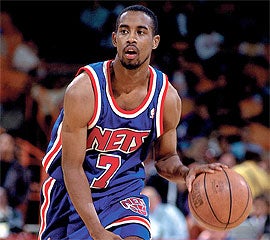 Michael Anderson has an awful lot of confidence in the basketball knowledge of Long Beach, New York residents to claim that he's Kenny Anderson and expect it to get him somewhere . I can't wait until ten years from now when Floyd Mayweather, Jr. gets arrested for impersonating Floyd Mayweather, Jr. and it actually turns out to be him.
A man who on three occasions posed as a New York City basketball legend as part of a confidence scheme to dupe and defraud unsuspecting victims in Long Beach was arrested Tuesday, police said. Michael Anderson, 43, of Far Rockaway, approached the victims and identified himself as Kenny Anderson, a Queens native who played in the NBA for more than a decade, Long Beach police said.
You might find yourself wondering, what's Kenny Anderson doing for a living now? (Tempting as it may be to believe that Michael Anderson is, in fact, Kenny Anderson. Especially for Michigan State fans still bitter over that late 3.) Well, Kenny is now the head coach of The Hombres, a team in the Slamball league. Of course.
Man who posed as athlete charged in scheme
[Newsday]
Fake Kenny Anderson cons Long Beach residents
[A Stern Warning]