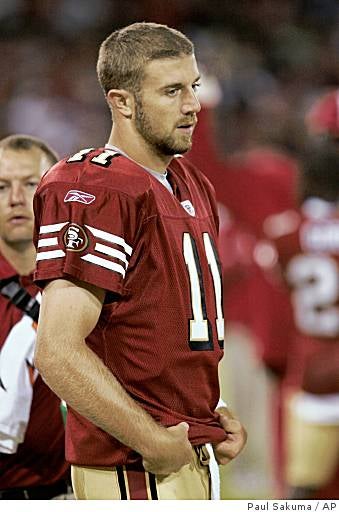 It appears that Alex Smith's time as a San Francisco 49er has come to an end. The star that shone so brightly for, say, about five-and-a-half quarters in 2006, was extinguished on Tuesday when it was learned that the quarterback has a broken bone in his shoulder and would be placed on injured reserve, most likely ending his season. And that means he'll be gone as soon as the team can release him in the spring; his six-year, $49.5 million contract (24 mil guaranteed!) being way to bulky for the Yorks to carry if he's not going to be the starter. So raise a glass for Alex tonight. And now toast new No. 3 QB: Jamie Martin. (Begins feeling woozy. Sits). Momma save us. Head coach Mike Nolan was nostalgic and a bit misty when contemplating the end of his association with the former University of Utah standout.
"All I need to know is if he'll be back on this football team so that I can make an adjustment to our roster," Nolan said. "I don't have any specifics other than that."
I promised myself I wouldn't cry ... Smith was supposed to be the next big thing in Niner quarterbacking when he got here four years ago, but always seemed to be just a little off; one of those kids whom you describe in terms of potential, until one day you look up and he's been around for four years with nothing to show for it. Well J.T., this really is your team now, proving once again that no Irishman can ever catch a freakin' break.
49ers QB Smith On IR, Likely Ending His Tenure With The Team
[San Francisco Chronicle]