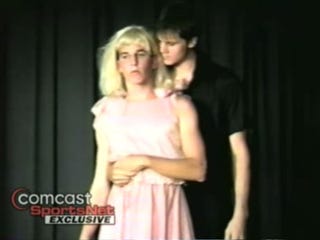 If the Red Sox fail to win the East this season — and let's face it,
it's looking more and more doubtful
— we can probably blame this. One is never really prepared for a video of Jonathan Papelbon at a high school talent show performing Dirty Dancing routines in drag; it's just a shock to the system any way you look at it. Imagine how the Red Sox felt when David Ortiz called a team meeting and showed the video in the clubhouse. This could put the Curse back into effect. All kinds of video following the jump. Nobody puts Papelbon in a corner! We have Papelbon Dirty Dancing, and performing in drag, all at a high school talent show. Also, Papelbon in a fashion show. The video (
shown in its entirety here
) was provided to Comcast's Gary Tanguay by Sheila Papelbon, Jon's mother. "Thanks ... my mother, folks." The best part for me was Ortiz interviewing Papelbon following the presentation. Ortiz seems genuinely confounded by the exhibition, and a bit concerned, as if he will never fully unravel this mystery. I kind of feel the same way myself.
Jonathan Papelbon: The High School Years
[Comcast Sports]
Dance-0 Ocho
[Comcast Sports]
Papelbon Gets Down And Dirty
[Extra Bases]