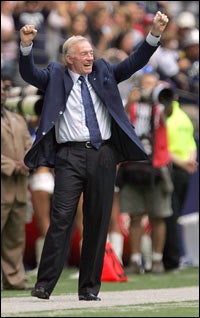 Just as a refresher, the Pittsburgh Steelers franchise fee was $2,500 back in 1933. Art Rooney had the money to pay the franchise fee thanks to winnings at Saratoga Racetrack. Yeah, pretty good investment. As always it makes you want to kick your grandfather. The NFL becomes the first sports league for an average team to surpass the $1 billion mark . Who are the most valuable franchises according to Forbes? Read on.
The top three teams in the Forbes list were the same as last year: the Dallas Cowboys ($1.612 billion), the Washington Redskins ($1.538 billion) and the New England Patriots ($1.324 billion). The Redskins have the highest estimated revenue and operating income at $327 million and $58.1 million, respectively.
You think only big money has been made in the old days? Way back in 1989, Jerry Jones purchased the Dallas Cowboys for the then exorbitant price of $150 million. That's worked out pretty well also. In another twenty years are we going to be talking about the Cowboys worth over $10 billion? The Giants and Jets clock in at numbers 4 and 5 in the league thanks to their new stadium. Each is valued at $1.17 billion. According to Forbes the average NFL team is now worth twice what the average major league team is.
NFL average team value over a billion
[Yahoo]
Average NFL Franchise Value Over $1 Billion, According to Forbes
[Biz of Football]