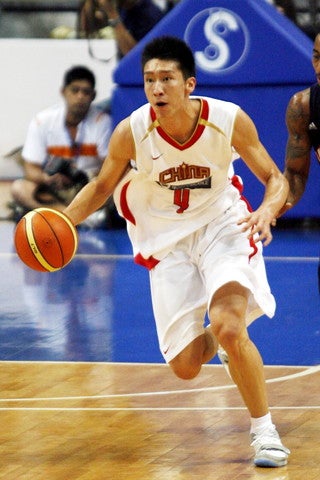 Sun Yue is 6'8 and was signed by the Lakers this summer after being drafted in 2007. He's announcing his nickname preference now so there's no confusion once the season starts. The season won't start until his visa is approved, but don't call him the Chinese Magic Johnson. Instead, per Yahoo, he wants to his nickname to derive from "the mythical "Monkey King," the legendary simian hero of the Chinese Buddhist literary classic "Journey to the West." Why not Magic?
"I don't want to be called the next Magic Johnson," Sun told the China Daily of the nickname given him to by the Chinese sporting press. "He was a great player, and he has everything you could ask for in a coach but I don't think I am going to pattern my game after him in my rookie year," he said of the legendary player and Lakers part-owner.
Nice move. On the one hand you can pattern your game after one of the greatest players in NBA history, on the other hand you can pattern your game after a mythical king of monkeys. Sun Yue chooses wisely.
Don't call me Magic, call me Monkey King
[Yahoo]
Call me Monkey King
[Ball Don't Lie]