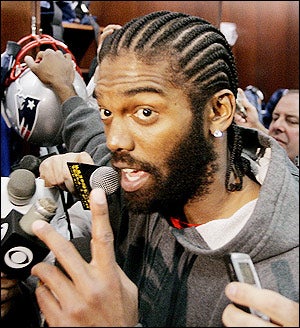 If there's one thing that Matt Cassel wishes for his starting debut with the Patriots on Sunday, it's that a prominent teammate talk some smack to the opposing team, which already has a contract out on him to begin with. Oh, and a very painful cold sore; that would be good. Randy Moss just couldn't help popping off to the press on Wednesday, when asked about New England's upcoming meeting with the Jets:
"I think the New England Patriots have won the division over the last couple of years, so the New England Patriots are the team to beat," the Patriots' all-world wide receiver said on a national conference call, responding to a specific question about the Jets' seemingly improved chances. Tom was a big, big, big component to make the offense move, and with him gone, we have to find other ways to make the offense move. But we're the team to beat, and we'll see what happens."
How about a real mooning this time instead of the fake variety? That should do it.
Randy Moss To Jetrs: Patriots Are Still 'The Team To Beat'
[New York Daily News]