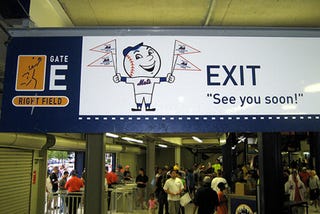 Not since Cosmo Kramer fished the entire Merv Griffin talk show set out of a dumpster has there been a bigger opportunity than this: The Shea Stadium Memorabilia Auction. I know you've always wanted your very own Mets dugout, and now is your chance: Starting bid $100,000. How about Moises Alou's locker? That'll run you 10 grand. Myself, I'm going for the cheaper items, such as a panel from the outfield wall: $1,750. It's gonna look great serving as my garage door. Dare you dream of the Dunkin Donuts cup in the visitor's bullpen? $3,500. Hey hands off; Aaron Heilman's not for sale! Also for sale: All manner of signs and banners, including several "No Forklifts" signs, which should be a hit at parties. And the foul poles will run you $25,000 each.
Here's the full list
. The items, sold in partnership with the MeiGray Group, went on sale at 10 a.m. today and can only be purchased by calling (888) 463-4472. They will be available to view throughout this weekend's series against the Braves. I can just see a peacefully dozing Bobby Cox being loaded into an SUV by a family from Suffolk County.
Shea Stadium Memorabilia Auction — Here's What You Can Buy
[Loge 13]