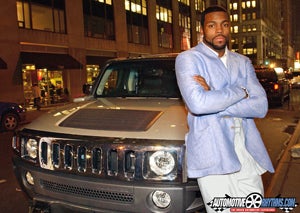 Hey, I couldn't let you head out toward your weekend without this small bit of advice: Drive safely. Because even if the cop lets you off with a warning, you may end up with the ticket anyway. Just ask the Browns' Braylon Edwards. Edwards was pulled over on Aug. 29 in Avon, Ohio, for doing 120 mph in his Bentley along Interstate 90. The cop, seeing that Edwards wasn't drunk, and buying a story that a passenger was sick (good one), let the wide receiver off with a warning. Howeva ... a local TV station got ahold of the story and called Avon Police Chief Paul Romond for a comment. So the officer was reprimanded and Edwards got his ticket anyway; just three weeks late.
The officer apparently was star-struck over meeting the Pro Bowler, said Avon Police Chief Paul Romond. The chief said he learned of the incident on Thursday when WOIO-TV in Cleveland asked about the matter. Edwards, who last month was sidelined with a cut foot, downplayed the incident. "The officer let me off for good behavior," Edward said Friday. "Because of Channel 19 (WOIO), it got brought back up, got resurfaced and there it was. I got a ticket. But I'm not the first person to get a speeding ticket."
The length and quality of Edwards interviews on WOIO this season should be fantastic.
Browns Pro Bowl WR Braylon Edwards Gets Belated Speeding Ticket
[Fox61]