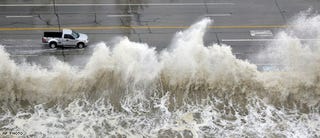 Galveston, Houston and much of the Gulf Coast stay in lockdown mode this morning, waiting still to assess the human and structural damage as Hurricane Ike, freak storm that it appears to be,
drags a huge storm surge over the Texas coast
. However, we do have a preliminary assessment of the effect on the sports weekend to date: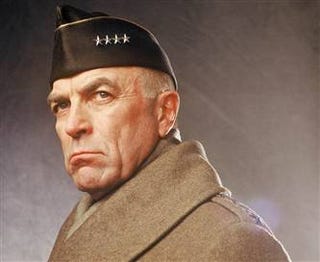 • Baseball games across these United States failed to launch last night from the effects of various tropical storms, hurricanes, storm systems, and overly moistened sponges in the visitors' locker room. Houston's series against the Cubs has been postponed indefinitely with even Sunday's game now in some question. The Astros wouldn't settle for playing under the Miller Park dome, apparently willing to forego guaranteed ticket revenue (since Cubs fans would definitely travel) for a remote chance at wild card success through a minute (ahem) home field advantage. So, y'know, that's noble enough as these things go. More on the night in baseballus interruptus in Le Closer. • The Ravens will roll over for the Texans on Monday night now instead of Sunday.
DirecTV and the NFL will allow the game to be shown nationwide for DirecTV customers
now that ESPN has been
shamed
coerced
kind enough to lift their exclusivity on the Monday night time frame. • College football games across the Gulf Coast and Texas shuffled to and fro, with
Baylor thumping Washington State 45-17
last night and
Grambling State taking on Northwestern State Sunday
. • Over-under on Craig Biggio being caught in an unintentional photo op helping out the homeless youth of Houston affected by this overwhelming event because he just loves the community and wants to pitch in and, aw shucks, he's just one guy out there giving what he can (with his good side in every picture) is Sunday evening by 8 pm to give time for local broadcasters to prepare the package for 10. • And so long as we're going to be in trouble with our friends from Houston anyway, we should point out that there is some good news coming out of that part of the country. We can now report that the Astros' playoff chances were safely evacuated in April with no one hurt except Ed Wade's future job prospects.
The Great Galveston Hurricane of 2008
[Weather Nerd]
Ravens-Texans Game Will Air on DirecTV
[Pro Football Talk]
Hurricane Ike deals a blow to Gulf Coast sports
[Yahoo! Sports]