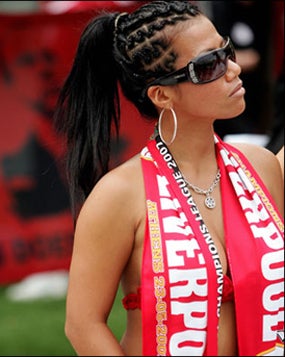 Rafa Benitez has finally secured his first triumph over Manchester United in over six years with Liverpool's 2-1 victory this morning at Anfield. Despite surrendering an early goal, and playing without Fernando Torres, the home side pulled off the unexpected result on Ryan Babel's 77th minute game winning goal. The Red Devils struck first when the newly acquired Dimitar Berbatov found a streaking Carlos Tevez for a 3rd minute goal, only to watch their advantage evaporate when Edwin van der Sar punched a ball directly into Wes Brown's thigh for an own goal. Manchester suffered another blow when Nemanja Vidic was sent off after a second yellow card, meaning he won't be available for next week's huge clash with Chelsea. •
Who's the guy sucking his thumb?
Seeing Robinho in that pale blue after envisioning him in a real shade for so long was painful enough, then he had to go and stick in the dagger with a picture perfect set piece ten minutes into his debut. Fortunately for my sanity's sake, a fortuitous bounce off of a Chelsea corner delivered the ball right to Carvalho. The central defender took advantage of his rare opportunity with a powerful blast into a wide open goal. Chelsea went up for good in the second half after an exchange with Malouda on the wing left Lampard free to create some space for a powerful left-footed shot past Joe Hart. Anelka added a clincher before he was replaced by Drogba, who was making his season debut following injury. Unfortunately for Chelsea (and those within earshot of my screams), John Terry was given a horseshit red card, making him the second key defender to be canceled out of next week's match. •
Still want to sell him?
Emmanuel Adebayor was the man for Arsenal, scoring a hat trick in a 4-0 drubbing of Blackburn Rovers. The Gunners find themselves third on the table trailing Chelsea and Liverpool with nine points. Just two points shy of them lies Hull City, the real power of the EPL. The Tigers devoured the Magpies 2-1 in front of thousands of really angry people at St. James Park.