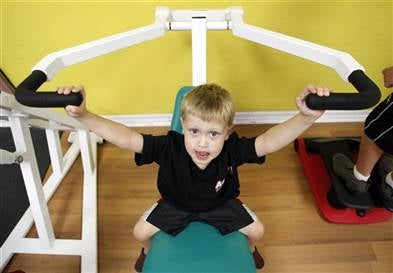 The great thing about growing old in the 21st century; no worries about ordering children to get off your lawn. That's because no self-respecting kid these days would be caught dead playing outside; it's too cold/humid, there's smog, Michael Jackson is roaming free, and as we know, the outdoors are infested with butterflies. I mention this because, according to the International Health, Racquet and Sportsclub Association, last year 1.3 million children ages 6 to 11 were members of a health club. (Terrorists declare victory). From MSNBC :
At Action Kids Fitness Center, with two locations in California, children can take a 40- to 45-minute circuit training workout with resistance machines and cardio stations, including stationary bikes that connect to PlayStation 2. The center also has hip-hop dance, yoga, karate and monthly nutrition classes. "We really pride ourselves on the energy and excitement we put into making fitness fun," said Steve Ewing, the center's co-founder. "We don't want them to be thinking they are overweight and obese. We want them to acknowledge that moving is fun."
My solution: We should start a Kid Olympics. Events could be four square, red rover, tetherball, lawn darts ... all of the activities you sucked at as a child, but of which today's children don't know. Imagine your pride as Bob Costas interviews your son after he wins the gold medal in hide 'n' seek. The fear of China beating us in Slip 'N' Slide — the game we invented — should be enough to get our kids' fat asses out of the house and onto a water-covered sheet of plastic on the lawn.
Children Hit Tot-Sized Treadmills At Kiddie Gyms
[MSNBC]