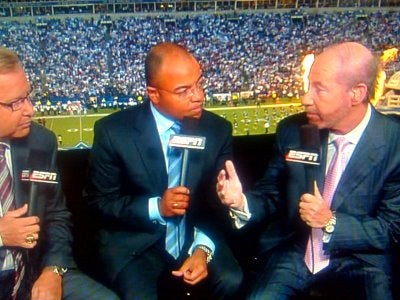 Everything about the man seemed a bit ... off. From his wacky hair, to his glibness, to his bad jokes, to his worshipful Dallas Cowboy comments. And, of course, there was the odd apology he threw out there , after making this remark:
Following a replay of the Felix Jones kickoff return for a touchdown with audio from the Spanish-language call of the game, Kornheiser said, "I took high-school Spanish, and that either means 'nobody is going to touch him' or 'could you pick up my dry cleaning in the morning.'"
ESPN's official statement about it is, "After the comment was made our production team, including tony, discussed it. they agreed that making the apology was the right thing to do." Okay. Is there some stereotype about
Spanish people
Latinos and dry cleaning that I don't know about? Kornheiser's subsequent apology seemed stilted and that he was completely annoyed to do it. It probably was a little overly cautious, but then again since it is Hispanic Heritage Month, you'd hate to anger the Spanish dry cleaning business owners out there with your pithy one-liners. I actually found Kornheiser's joke less offensive than listening to Mike Tirico over-enunciate
Vaqueros
.
Kornheiser Makes On-Air Apology
[PFT] Photo courtesy of
Midwesterner's Guide To NYC