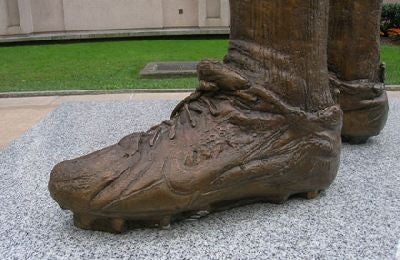 Syracuse recently unveiled a statue of famed running back Ernie Davis. Davis was the first black person to win the Heisman Trophy and starred at Syracuse in the early 1960's. In addition to winning the Heisman Trophy, he was the overall number one pick in the 1962 NFL Draft. But he never played in the NFL. Davis developed leukemia and died in 1963 at the age of 23. So this is a tragic story well-deserving of commendation by Syracuse. Only the designer of their statue goofed...Davis is wearing Nike cleats . Which is bad because Nike's swoosh didn't exist until 1971. Oh boy. Now Syracuse's AD has responded to The Sporting News' questions about the error.
Syracuse athletic director Daryl Gross said. The sculptor simply made a mistake. "Easy fix," Gross said in an e-mail today. "The sculptor is on it and will make it perfect."
Good thing, because he also messed up the helmet. It should only have one bar. Also, there's a swoosh on the jersey as well. Raising this question, what is going right with Syracuse football? I'm not asking for much just...something.
Ernie Davis honored the right way, as if he had an endorsement deal
[Troy Nunes is an absolute magician]
'Cuse AD: Swooshes on Ernie Davis statue a mistake
[The Sporting Blog]