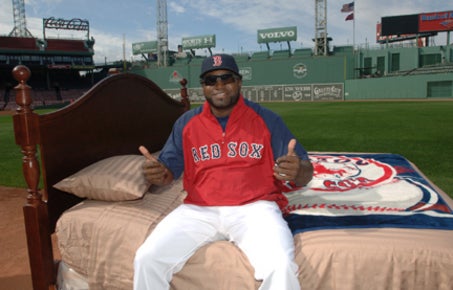 I have always dreamed of sleeping in Big Papi's bed, but until now I never thought that it could become a reality. Now it's here; the once-in-a-lifetime opportunity to own Big Papi's bed. I don't know for sure, but I imagine that sleeping there would be like nestling into a warm, comforting hug by the Red Sox slugger himself. Also there may be pie crumbs. Via Red Sox Monster :
Boston Red Sox star David "Big Papi" Ortiz and his wife Tiffany have donated their bed, with the headboard autographed by the slugger, to Boston Health Care for the Homeless Program (BHCHP). On September 17, the nonprofit will begin the auction of the king-sized bed, as part of its League of Our Own campaign, the final leg of its $42 million capital campaign. The money is funding the organization's new home in the South End, Jean Yawkey Place.
I wonder; by purchasing this bed, will I then dream the dreams of Big Papi? I imagine that I would; and they would be large, boundless dreams, with possibilities that stretch to the horizon. And making love in the bed would not be a chore, but a privilege, and would produce large, strapping sons. Someday I would explain to them that yes, you were conceived in Big Papi's bed. And my sons would go out into the world, armed with that knowledge, and see a therapist two times a week.
Big Papi's Bed Is Now Helping The Homeless
[Red Sox Monster]