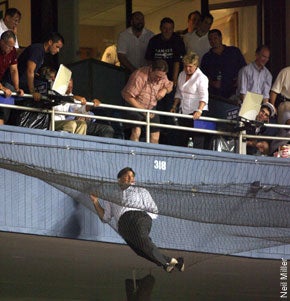 As you know, the final homestand ever in old Yankee Stadium began Saturday, as the team moves to a larger space next door —
with unobstructed views from most seats!
— in 2009. There have been several tributes already, and Bugs and Cranks came out with an anti-tribute today. But I'm sure that Deadspin readers have Yankee Stadium stories that would make these look wan and thirsty. So to mark the demise of our favorite creaky Bronx baseball yard, let's hear some of them. Send along your Yankee Stadium tales to me at
Rick@Deadspin.com
, and I'll post the best of 'em on Friday. But for now, Bugs and Cranks has the floor.
Smitty: I sat in the rightfield bleachers for Hall of Fame Day in 1987 against the Tigers. Catfish Hunter was being inducted that year and the Yanks had a special day for him. Bob Sheppard announced each of the immortals in his unmistakable style. Mantle, Berra, Rizzuto, Ford, Dimaggio were all there. (I don't think Martin was there that day.) During the pregame ceremony, all the Tigers but one left the field out of respect for the Yankees. The only guy who stayed on the field was Kirk Gibson, who refused to change his warmup routine. While Joe D was making a speech, Gibson laid down on his back in the outfield grass, raised his legs above his head and pointed his ass right at Dimaggio. I never laughed so hard in my life.
If this goes well, we'll follow up with a Shea Stadium version. Although 90 percent of those would be escalator stories, I presume.
Memories Of That Old Dump In The Bronx: B&C's Anti-Tribute
[Bugs And Cranks]