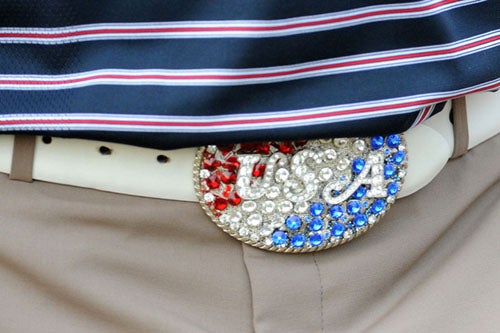 Okay, so maybe Nick Faldo isn't a total putz. While his two best golfers rode around in golf carts all morning the Europeans managed to put a dent in the early US lead. Rose and Poulter earned them a full point when they avenged yesterday's fourball loss to the Cink-Campbell pairing while Jimenez and McDowell earned a half-point when Justin Leonard's putter finally cooled off. The one win for the US came from the Furyk-Perry duo who dispatched of Harrington-Karlson 3&1 The most surprising result of the morning came when the Mickelson-Kim fell 2&1 to Henrik Stenson and somebody named Oliver Wilson. As much as I love that belt buckle I'm going to have to insist that Kim switches back into the AK for the afternoon. Not that the loss was his fault, FIGJAM couldn't hit a fucking fairway all morning. After the morning session the US leads 7-5.
Afternoon Fourball
•
Holmes/Weekly vs. Westwood/Hansen
- Boo Weekly is so damn southern he even makes some of the Kentuckians nervous. Regardless, he's teamed up with one and they're taking on a pair led by Lee Westwood who has been none too happy with Weekly's raucous personality. BOOOOOOOOOOOOO! •
Curtis/Stricker vs. García/Casey
- Sergio has always been close to unbeatable in the Ryder Cup and Paul Casey was a perfect 4-0 at the '06 competition, but he's already lost in his one match this year. The American pair would do well to earn a halve here, it's a half-point that could make all the difference in the end. •
Furyk/Perry vs. Poulter/McDowell
- This American pair has earned 1.5 points so far, and they'll need to add another one in this matchup. The Euro side won't be easy to beat so both guys will have to go low this afternoon. •
Mickelson/Mahan vs. Stenson/Karlsson
- So much for that Mickelson-Kim pairing. Still, Mahan is a good partner for FIGJAM in this format. They better not fuck this up against those gargantuan Swedes. As you can see Anthony Kim and Justin Leonard will be sitting this afternoon despite their standout play thus far. If I had my way they'd be in there for Curtis and Stricker. But for some reason those fuckers never let me be captain.