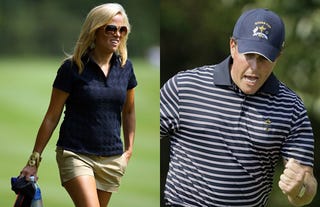 It's beginning to look as if the Americans will go into tomorrow's singles play with a comfortable lead for the first time in years. Of course with 12 points up for grabs, one for each of the 12 singles matches, they'll need every point they can get as the afternoon session reaches its conclusion. Continue after the jump for an update on all four matches of fourball. Then make all the "fourball" jokes you'd like in the comments as god intended. •
Holmes/Weekly vs. Westwood/Hansen
- The Boo Weekly show has taken over Louisville, Kentucky. The Ryder Cup rookie has had the crowd on its feet booing with joy all afternoon as he and (John) Holmes are dormie with two holes to play.
Update: Boo and and the porn star have just ended Westwood's unbeaten streak. 8-5 United States.
•
Curtis/Stricker vs. García/Casey
- The odd pairing of Curtis and Stricker is playing quite a bit better this time around and they've managed to hang with their strong European opponents all afternoon. The two sides have matched putt for putt, including a rather loud and dramatic exchange between Garcia and Stricker early in the match, and they remain all square after 14 holes. •
Furyk/Perry vs. Poulter/McDowell
- The strong US pairing has not been able to hold off McDowell or Nick Faldo's bff, Ian Poulter. The English golfer was one of Faldo's criticized captain's selections and he will be the only European to play in each session during the event. So far he's making the captain look pretty smart, this pairing has a slight one hole edge over their counterparts with plenty of golf left to play. •
Mickelson/Mahan vs. Stenson/Karlsson
- So far the Americans are holding off the Swedes by the narrowest of margins. We know Mahan can keep it in the fairway off the tee, and if Mickelson can join him in the short grass they should get through the next six holes.