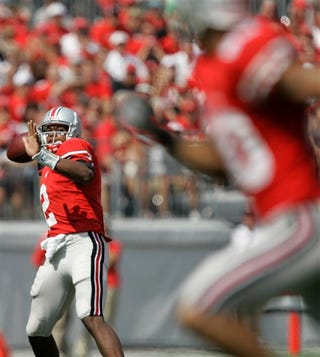 Just because their season came to a crashing halt last weekend it doesn't mean it's too early to start setting things up for next year. After three games, including one crushing loss at USC, Jim Tressel has "finally" handed things over to Terrelle Pryor, the superhuman frosh who gives Ohioans yet another reason not to abandon the state (I believe they're up to three at last count)*. Well so far things look pretty good for the first freshman to start under center for the Buckeyes in 30 years. The quarterback accounted for
all four
of the Buckeyes touchdowns in a win over
the Trojans
Troy.
Pryor's touchdown passes covered 39 and 16 yards to Brian Hartline, 13 yards to Rory Nicol and 38 yards to Brian Robiskie. The 6-foot-6 standout from Jeannette, Pa., who won't attend his first college class until next week, completed 10 of 16 passes for 139 yards with one interception. He also ran 14 times for 66 yards.
Okay, let's try to remember that he was playing against Troy, and aside from the gaudy touchdown total he wasn't exactly a world-beater. Ah fuck it, start building the Pryor-themed floats for the 2010 Rose Bowl Parade! *
This is just a joke, please don't feel the need to send me hate emails with a list of all the great things about Columbus. We know, you get good weed. We get it.
Image Source
AP Source