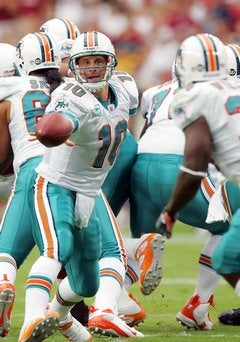 • Miami at New England:
Prior to the game, Dolphins Tony Sparano coach hinted that his defenders would look to
get physical
with Randy Moss today, and judging from his play so far (3 catches for 18 yards in the first half), I'd say that plan is working to perfection. Miami led 21-6 at the half. (Oh, and in case you're wondering about Ronnie Brown, he just announced that he's running for governor of Florida. Voters will surely be impressed by his three first half TD's on only 37 yards. and a 19-yard TD throw to Anthony Fasano to give the 'Fins a 28-6 lead midway through quarter number three.) The only thing close to being as impressive as Brown's showing thus far, was Chad Pennington's first half performance. The be-shitted QB played near-perfect football, completing 80% of his pass attempts.
• Chiefs at Falcons:
The Falcons defense almost threw a shutout against the Chiefs, leading 24 to zilch with seconds remaining before the halftime break. However, Tyler Thigpen found Dwayne
Wade
Bowe for a last-second score. By the way, the Chiefs are the first team since 1970 to start three different quarterbacks in the first three weeks. Uh, that's not good kids. Michael Turner has two rushing touchdowns for the Dirty Birds so far, and Matt Ryan connected with Roddy White for a 70-yard scoring bomb just before the first quarter ended. (Quite likely the longest pass Falcons fans have seen since a certain canine-loving quarterback was at the helm.) Larry Johnson opened up the scoring in the second half, going in for 1-yard TD. He's got 90 rushing yards so far, and the Falcons' lead has been trimmed down to 10.
• Texans at Titans:
Steve Slaton is in the midst of a monster day; the rookie back has amassed 104 yards so far, and scored a touchdown. His hapless Texans, though, remain hapless: The Vince Young-less Titans lead 21 -12 early in the third quarter. (Young's replacement, the ageless Kerry Collins, has completed 13 of 21 pass attempts, and threw one of those for a touchdown. Old Man Collins has 141 passing yards so far.)
• Bucs at Bears:
Devin Hester didn't suit up for this one (he injured some cartilage in his rib cage during last week's loss to the Panthers). As such, no one would blame you if you didn't bother tuning into this game. For those with money on the contest, however, it's 14-9 for Tampa with plenty of time remaining in the third quarter.