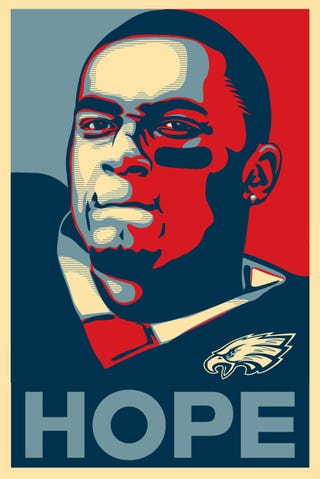 • Steelers at Eagles:
A.J. Daulerio kindly requested that I attach the photo you see above to this post, which should tell you everything you need to know about the emotional state Eagles fans are in this afternoon. The Steelers jumped out to a 3-0 lead late in the opening quarter, via a 37-yard field goal kick from Jeff Reed's dong. (Brian Westbrook has also just left the field, in what looked like a twisted ankle.) Cheer up, Birds fans: Donovan McNabb just found Correll Buckhalter for a 20-yard TD. Eagles lead 7-3.
• Saints at Broncos:
This should be one of the better games today, and so far, it's living up to the hype. Jay Cutler is on fire so far, throwing for a couple of TD's. One person who hasn't been on fire in the early going is Reggie Bush; Kardishan's boyfriend has rushed the ball five times and only gained 18 yards. Not only that, but he also coughed up the pigskin and Nate Webster returned the fumble for 34 yards and a score. Pierre Thomas then showed Bush how to properly carry the ball in for a score, and the Broncos' lead has been cut to 21-10 in the second quarter.
• Lions at Niners:
The League has yet to decide if it's possible for both teams to lose this game, but in the meantime, here's what's taking place: Only the Niners have done much of anything so far, as J.T. O'Sullivan connected with Isaac Bruce to open the scoring, followed by a Frank Gore run to give San Fran a 14-3 lead early in the second quarter.
• Browns at Ravens:
Derek Anderson found Jerome Harrison for a 19-yard TD strike to kick things off in the second quarter, and it remains a 7-0 game. Willis McGahee has rushed for 20 yards so far for Baltimore.
• Jacksonville at Indy:
Peyton Manning has thrown for 88 yards, and hooked up with Marvin Harrison for a TD. 7-3 lead for the Colts.
• Rams at Seahawks:
Matt Hasselbeck is on fire this afternoon; the bald-headed wonder has already thrown for well over 100 yards midway through the second quarter, and has Seattle up 17-3. Julius Jones and T.J. Duckett each found the house, and Michael Bumpus hauled in a 10-yarder for a score. 24-3 for Seattle.