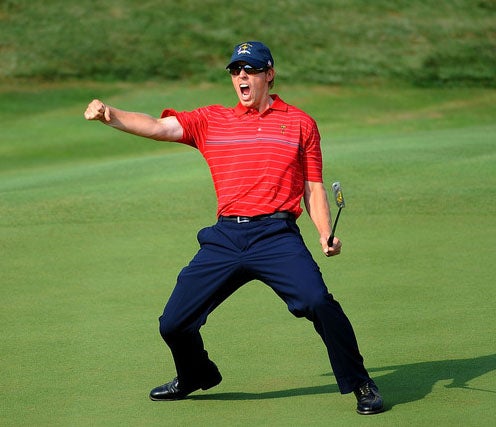 Hunter Mahan and the underdog American Ryder Cup team have brought the prize back to the States where it belongs, for at least the next two years. As expected, the European media is taking things well. By that I of course mean that they are wasting no time in bashing the crap out of beleaguered captain Nick Faldo. (UPDATE: Incredible video of JB Holmes Boo (oooooo!) Weekly "riding the pony" (his driver) in his win earlier today via Sox and Dawgs )
Azinger outthought, outplanned, and outmanouevred [Ed.- Uh...sic?] Nick Faldo to mastermind this American victory. His four wild cards all delivered, none more so than Mahan, who was unbeaten in four matches. His pairings were a revelation, he got the order spot-on in the singles, and managed to rouse Phil Mickelson, despite yesterday's drubbing from Justin Rose. [Ed.- Rose drubbed Mick today, and they hadn't played previously but please, go on...] It was a model example of controlled and intelligent captaincy from Azinger — a total contrast to the frenzied efforts of his old sparring partner Faldo. The European captain seemed determined to leave his own mark on this match and he will certainly go down as the man who got it all wrong.
I, for one, wish the British sporting media would quit mincing their words and just come right out and say what they think. Anthony Kim got the Americans off to a fantastic start, putting away a lackluster Sergio Garcia in just 14 holes. Hunter Mahan followed up with his third straight halved match after winning his first two matches for 3.5 huge points. The other winners on the American side were Kenny Perry, Boo Weekly, JB Holmes, Jim Furyk, Ben Curtis, and Chad Campbell. Huge credit has to go to the final two who many viewed as sacrificial lambs against Westwood and Paddy respectively. One last time now...BOOOOOOOOOOOO!
USA 16.5 - 11.5 Europe
The Sun UK
Video update...
Click to view
Original Video- More videos at TinyPic
Wacky southerners.
Sox and Dawgs