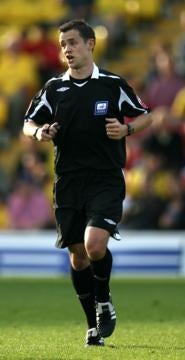 Imagine Ed Hochuli's blown call in the fourth quarter of the Broncos-Chargers game, only worse. Now, imagine that Mike Shanahan, after reviewing the play on tape, calls Norv Turner and says: "That call obviously wasn't right, Norm old bean. So what say we replay the game?" Think that could never happen? In America, you're right. But in European soccer, it's happening right now. It all has to do with the infamous "Phantom Goal," which occurred on Saturday in favor of Reading in a match against Watford in the Football League Coca-Cola Championship match.
The goal was erroneously awarded after 13 minutes when a Stephen Hunt corner glanced off John Eustace's thighs and bobbled out of play over the byline. Referee Stuart Attwell, however, awarded a goal when his assistant referee flagged, to the bemusement of the players on the pitch and the fans in the ground. "I've seen it and my conclusion is obviously that it wasn't right," said Coppell. "I'm not sure there's a precedent but if that's what people decide then I am quite happy to do it. We don't want to be seen to be taking advantage of anything. I have sympathy with Watford and I really don't know what to say to make it right. But if the Football League phone me now and say something was definitely wrong I'm happy to go along with it."
Unfortunately, The Football League ruled today that all sales are final;
there will be no replay
. But wouldn't it be great of they did? It could start a trend throughout the world, which could lead American coaches doing the honorable thing and throwing back ill-gotten victories. Belichick might even go through his videotape collection and give back a couple of his Super Bowl rings.
Kendra Wilkson Dating Hank Baskett?
[Sports Crackle Pop]
Watford And Reading Will Not Replay 'Phantom Goal' Game, Says League
[Guardian.com.uk]