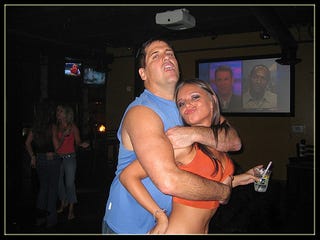 That means you too, Cuban. Bracing for the inevitable rush on booze-ingestion during the Cubs' playoff run, the Windy City is bars to voluntarily cease all alcohol sales after the 7th-inning in Wrigleyville area bars during a "clinch game" to prevent any "ugly alcohol-related incidents" from ruining everyone's joyous good time. According to
Chicagoist,
the ban is wide-reaching, with the boundaries for the cutoff zone being" Sheffield between Irving and Newport, Clark between Irving and Newport, and Addison from Wilton to Racine," which I'm assuming is pretty much takes care of all the bar areas near Wrigley. I'm sure the owners of those bars must be thrilled with this idea. But don't frown too much, Cub sots — liquor sales could resume once the game is over, according to Ray Orozco, executive director of the city's Office of Emergency Management and Communications. At that time, it's perfectly reasonable to binge away the 100 years of sorrow and urinate on yourself and your loved ones, as much as you want.
City may curb booze near Wrigley
[Chicago Sun-Times] ***** Tonight: It's Tuesday. Go stretch your legs and walk the dog. Or spend some time here figuring out the comment thread-thingie. Please? I really would hate it if new technology has everybody spooked. Tomorrow: TBD. Thank you for your patience during these inevitable changes. Your continued support of Deadspin is much appreciated. What's that? Oh. Right.
Skeets.