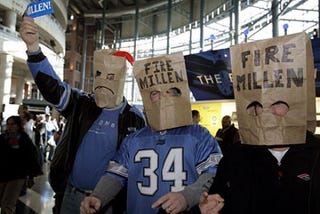 Every legendary movement begins with one daring act of civil disobedience. As close as I can tell, the Fire Millen phenomenon began one crisp December day in 2005, when a fan was manhandled by stadium security for brandishing a "Fire Millen" sign during a home game with Minnesota. Had Lions officials not overreacted that day, the most dramatic grassroots effort to get a person fired in the history of the NFL may never have been born. But it did happen, and the beatdown of the "Fire Millen" guy served as the movement's Boston Massacre. It didn't take long for idea to gain traction, and before long "Fire Millen" was, seemingly, the official slogan of the state of Michigan. It turned up on banners, on Tee-shirts, and appeared at Pistons games and on college campuses. On Dec. 11, 2005, the crowd chanted "Fire Millen!" at a Lakers-Pistons game at the Staples Center in Los Angeles. A "Fire Millen" sign was shown in the background of a February 3, 2007 broadcast of ESPN College Gameday at the University of Kansas.
A web site sprang up
. There were marches and other organized protests. "Fire Millen" became the new millennium's "John 3:16." Millen, so successful as a player (four Super Bowl rings with three teams), wasn't much as a general manager. Just look at the draft picks. Mike Williams. Charles Rodgers. Kevin Jones. Boss Bailey. The entire 2003 class. But somehow, he kept his job, seemingly holding no less a spell over Lions management than Rasputin held over the Romanovs. I must admit that I feel a tinge of pride that my 49ers delivered the final, devastating blow:
a 31-13 trouncing of the Lions at Candlestick Point
. The fact that it was San Francisco offensive coordinator Mike Martz and quarterback J.T. O'Sullivan who administered the beating — the same two men whom the Lions had given up on the year before — was too much for even Clay Ford Sr. to bear, it appears. Lions fans stormed the Bastille, and Ford had not the energy to resist. He closed his eyes and waved his hand, and Millen was finally gone. Wow. Who would have thought that Lane Kiffin would have outlasted Matt Millen? Ironically, word out of Detroit as late as Tuesday
had Millen's job totally secure
. But a vote of no-confidence by Clay Ford Jr. seems to have been the deciding blow. But the questions is, now what? Details of the firing are yet to be forthcoming. Will Millen's replacement begin the team back on the path to greatness, or are the Lions doomed to wander 40 years in the wilderness? Lions fans have expended so much energy trying to rid themselves of Matt Millen, they may not have enough left to embrace what comes next.
Ford Sr. Turns Deaf Era To Dissent Opinions, Even His Son's
[Detroit Free Press]